Download or Print HDFC Bank RTGS form online to submit in bank to send money to another bank account within time. Just check the timings followed by simple guide to fill RTGS form…
HDFC Bank is one of the largest banks in India, whose services are being used by crores of customers. The financial services provided by HDFC Bank allows customers to transfer funds, create FD accounts, Debit Cards, Credit cards and other services. The Reserve Bank of India has introduced RTGS and NEFT forms for making money transfers from one account to another.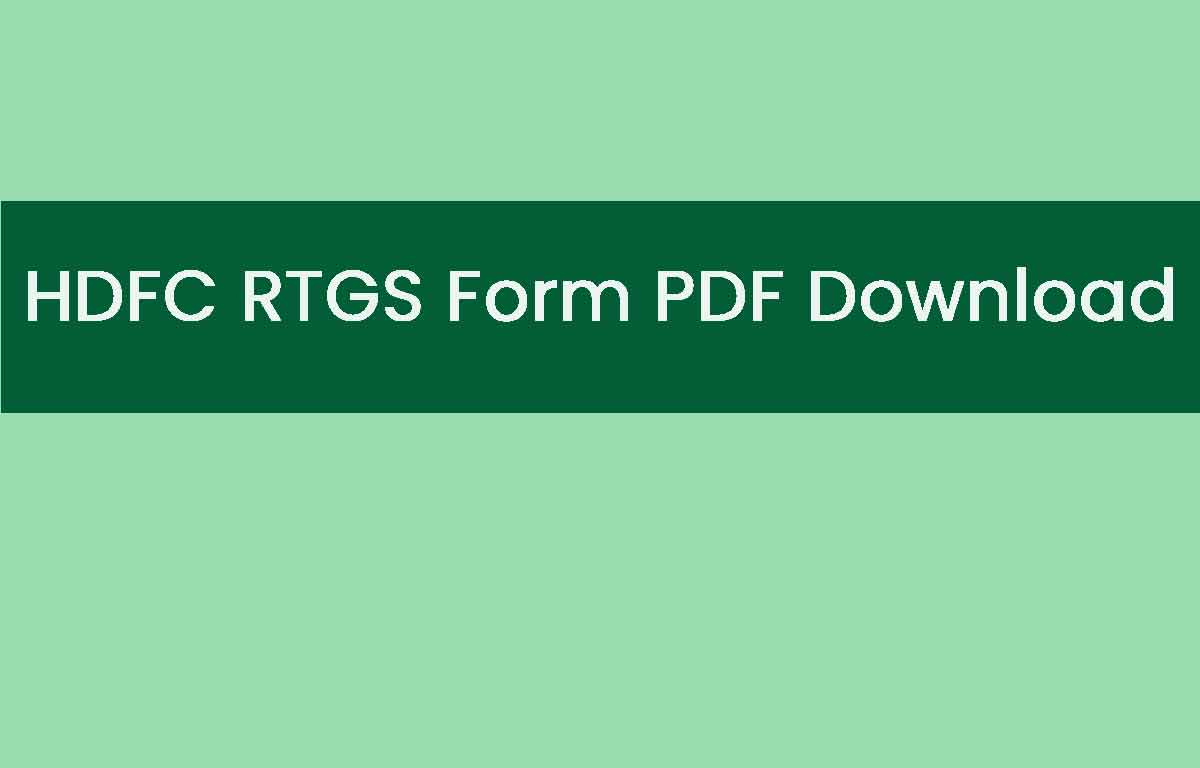 HDFC RTGS Form
RTGS Form and NEFT Form used to transfer funds above 2 Lakhs and below e 2 lakhs respectively. To have a secure way of money transfer from one account to another, these HDFC Bank release Forms.
| | |
| --- | --- |
| Name | HDFC Bank |
| Official Site | hdfcbank.com |
| Toll Free numbers | 1800202 6161, 18602676161 |
| Balance check number | 18002703333 |
Through RTGS Form, they allow sending more than 2 Lakhs. A customer who has to spend a large amount to any other account within bank or outside HDFC Bank, they have to use the form. These are processes which need to follow by the customers to make a fund transfer of a larger amount which is more than their daily limit.
The RTGS Form once submitted to the bank will only process during the bank's working hours. The RTGS Form will not process on Sunday and on holidays. As well, every 2nd and 4th Saturday of the month blocked for filling RTGS Form. The Bank timing to process request on working days of HDFC Bank will be between 10 AM to 6:30 PM.
Also read>>>
How to Fill HDFC RTGS Form
The HDFC Bank RTGS Form will be available from the official website of HDFC bank or from the Bank Branch at the help desk. Here is the process which one should follow to send money through HDFC Bank RTGS Form.
Fill details in Form after getting it from bank
Fill Beneficiary Details which include all of their banking details
Provide Remitter details along with Account number and Name
Write required details of Account Number, IFSC code, Amount to Transfer
Amount in RTGS form is to be more than 2 Lakhs INR only
Dual sign the Form and submit it at the Transfer Counter
Executive will take your Form and process as per eligible timing
HDFC RTGS Form Pdf
Banking customers may have an option for HDFC RTGS form download from this direct link using hdfcbank.com/content/re/Content/
Can I send large amounts from HDFC Online Banking without RTGS?
The HDFC Bank net banking only allows sending a limited amount per day and amount more than 2 Lakhs needed to only RTGS either to open while sending the Amount or by filling the RTGS form offline. There is no way, where customers can transfer large amounts without an RTGS form.
Does HDFC Bank Apply charges for HDFC RTGS Transfer?
The bank does not apply any charges for RTGS transfer from their account, these processes will usually to common money transfer but secured. It will only process during the business timing of the Bank.
How much time does it take to transfer money from the HDFC RTGS Form?
The HDFC Bank RTGS fund transfer will take approximately 30 mins in general. The time will differ if the RTGS form has submitted at the end of time. It will take for transfer only after the next working hours start.