Now HDFC life online payment is available in different modes to pay insurance premium annually or one time, Find the steps in each way and choose the convenient mode to complete the payment…
HDFC Life is one of the top insurance providers in India which helps many subscribers with their benefited plans, and customers get easy avenues that make their online payment and other options very easy, where HDFC was established in 2000 and it has been growing in service that it provides to customers.
The insurance policy through HDFC Life does carry in every different stream which ensures customers get their desired policy for their purpose, and customers can get more information about the HDFC Life Insurance from the official website of HDFC and here we will let you know how to get the installments for the policy to be paid.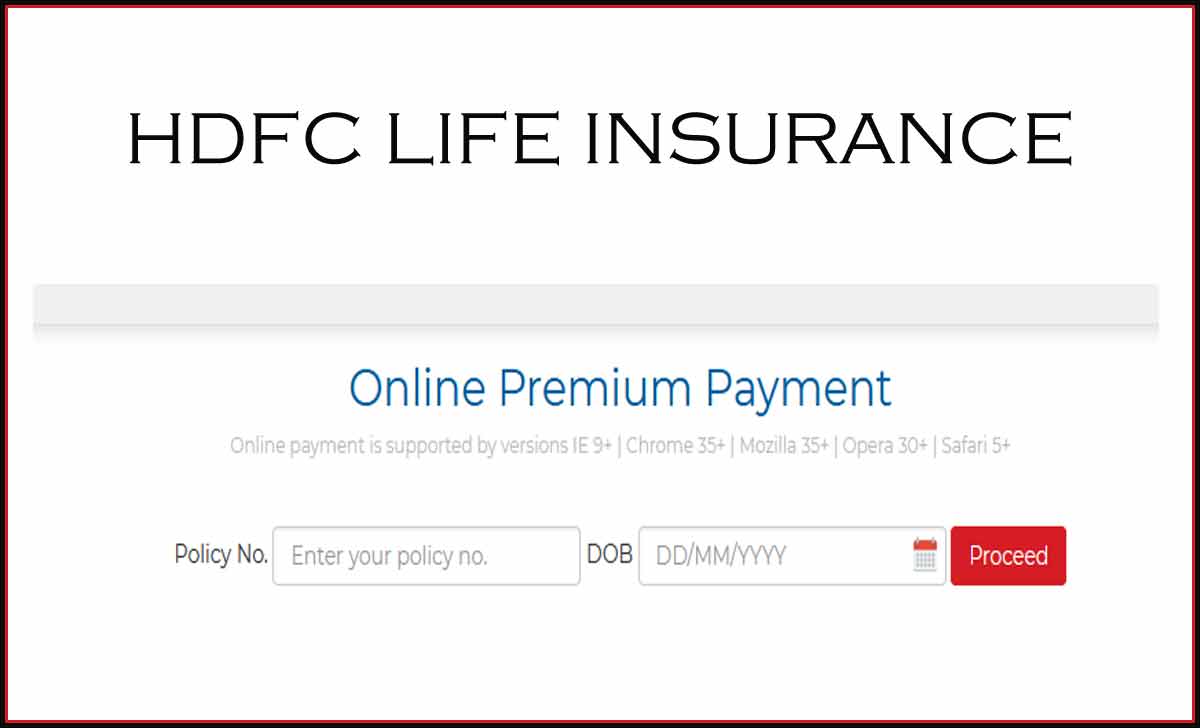 Timely paying will have your policy active and let you use it whenever required in an emergency.
HDFC Life Online Payment
If you're a customer of HDFC or not and have opted for the HDFC Life Insurance then here is the option that you can use to get your picky installments paid, so ensure you to use any method from 25penny.com which is best suitable and flexible to make the transactions.
HDFC Life Quick Pay
HDFC has introduced a website which is named Quick Pay to give an easy payment platform to the customers. Policyholders can utilize this website and get the third installment for any due policy to be cleared.
Visit the HDFC Life insurance Quick Pay website form your browser
Click on customer service section and click on Pay Premium amount
Now click on Pay Premium Online and wait for Quick Pay page to launch
Provide your policy number along with other required details
Enter the due amount and click on pay button to process for the payment
That's it, The HDFC Life Insurance online payment will be processed once the amount gets deducted from your preferred payment mode. These will update your policy and instantly send you an SMS for payment confirmation.
HDFC Life Online Payment via NEFT
The NEFT is an easier process which lets you pay the premium for your HDFC Life Insurance policy without entering the details every time you pay the amount.
Go to the HDFC net banking account with your internet banking credentials
Now chose the policy type to add in the NEFT for the auto payment
Enter the policy details and then fill your premium amount to be paid
Click on Pay button and wait for premium to deduct from your account
That's it! your HDFC Life Insurance premium for the policy has been paid online and the amount will be directly deducted from your HDFC account.
HDFC Life Insurance Online Payment through Standing Instruction Mandate
The HDFC Life Insurance online payment can be processed through SI mandate which is one the auto payment mode available in the banking. These methods will only be available for the customers who have an HDFC bank account.
Visit the bank and fill the standing Instruction Mandate form
Fil your policy details and fill your HDFC account to link with
As per SI mandate your premiums will be auto debited
That's it! it is ensured that you must have the premium amount in your account during the time of auto debit to get your HDFC Life Insurance payment paid on time.
HDFC Life Insurance Online Payment through NACH
NACH is an auto debit facility that is provided to the HDFC Life Insurance policyholder who does have an HDFC account.
Submit the auto-debit mandate form along with an HDFC canceled cheque
The MICR code from the cheque will be recorded and updated your account
That's it, every time your HDFC Life Insurance premium does get due, the amount will be paid from your account through the NACH facility which is enabled in your account.
HDFC Life Online Payment Via Credit Card
This is one more option to get your HDFC Life Insurance premium paid from the credit card. The option can also be taken as auto debit by following the below option.
Fill the credit card mandate form and submit it to the bank
Make sure it has got all your HDFC Life Insurance details filled
The official will check details and register your CC mandate form
That's it, these will deduct your HDFC Life Insurance premium amount from the credit card automatically whenever the due date has arrived.
HDFC Life Online Payment with PayTM
Paytm being the most used and flexible appreciable, it does bring you an easy way to get your HDFC Life Insurance premium paid from its official website.
Visit the website of Paytm or launch it on your mobile device
Log in with your credentials and tap on the service form menu
Find the HDFC Life Insurance payment link and tap on it to open
Here fill in your policy details and then enter the amount to be paid
Click on the Pay button and select any mode from the list of payments
That's it, your HDFC Life Insurance premium for the due month has been paid using PayTM and will be updated in your policy account instantly.