Now Students and Citizens may know how to open SBI account online with onlinesbi.com. Find detailed process and requirements for SBI new account opening online who wish to create banking products from own hands…
State Bank of India is the largest bank in India which does have branches in most part of country. The bank does have over lakhs of active customer with supporting their daily financial transactions. Online banking system is seen to be overtaking the manual works which even includes the bank account opening opting.
The truncation of State Bank of India can be processed through the official website of SBI, which does give a user-friendly option to their customers.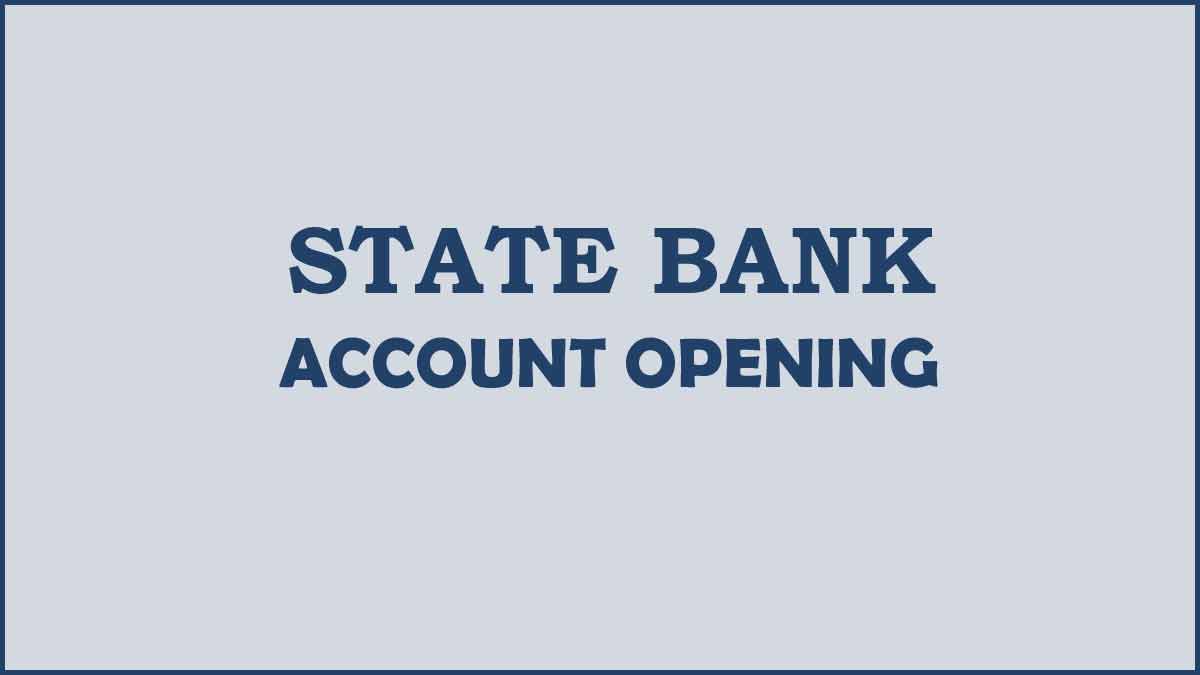 In recent times, account opening has been made easier, as the first stage of application filing and document submission has been entirely online. Customers can submit all their details through the online account of State Bank of India and get their new account open in quick time. This new account provides NEFT, SBI RTGS, other payment options and all as usually like branch account.
How to Open SBI Account Online
State Bank of India does provide an easier way to open the account from online official portal. Make sure you follow these steps and get your account open in SBI.
Visit official online portal of State Bank of India from onlinesbi.com. Click on Apply Online and wait for options to display on screen
Select Account for Resident Individuals or for NRE / NRO
Select Small Savings Bank Account for all including Students / Individuals
Find the account application process, benefits, information
Tap on Fill New Customer Information Form
Provide Personal Details along with KYC Information
Note down SCRN to link customer Account Opening Form
Enter all the financial details, Required branch code on selection along with mobile number and required facilities
Submit the form to attach documents
Upload the documents and submit the form and note down reference number generated
After successful completion of data entry, an SMS notification will sent on account holder mobile number.
Print the Account Opening Form Submit application at the branch for activation immediately.

That's it, Once the KYC has been confirmed, the State Bank of India account with the information provided will be activated and the account will be able to work within 48 hours of the first deposit made by the account holder.
Also find: SBI Net Banking
SBI Account Open through SBI Yono App
SBI Yono is the official mobile application from the State Bank of India, which provides all banking services to customers at their fingertips. Follow the below guide to get your SBI account open form SBI Yono App.
Install the SBI Yono application from iOS or Android Play store
Now launch the App and then tap on Apply online option
Select the Type of account from drop down and proceed
Fill your information and enter the mobile number
Verify your number with OTP and then submit the details
That's it! The State Bank of India Account opening through SBI Yono App has been submitted, and the customer has to visit the SBI branch for their document verification.
Also read: SBI Balance Check Number
State Bank of India Account Opening Documents
A customer who is going to open the State Bank of India Account online, must have the below said documents for their verification purpose.
Account opening Online Filled Application
Passport or Driving License
Voter ID or ration Card
Aadhaar Card
PAN card
Latest passport size photograph
Also find: SBI Credit Card Payment
State Bank of India Account Opening Kit
Once a customer has opened their State Bank of India Account online, the customer will be provided with the State Bank of India Account kit as a new customer.
State Bank of India ATM Debit card
Cheque Book containing 10 leaves for Minors
Instruction of State Bank of India
Also check: How to Change Mobile Number in SBI
SBI Online Account Eligibility
An individual has to go through the list of eligibility points to open the State Bank of India account, which are mandatory while applying.
Customer should be citizen of India
The customer age should be above 18 years as of date
In case of minor, parent or guardian should open the account
Government identity proof for verification
Address proof for Address verification
Minimum Account Balance amount
Also check: SBI Forgot Password Reset
State Bank of India Account Services
State Bank of India is a nationalized bank and it always tries to bring convenience to the customer by the below listed features.
Mobile banking facility
SMS alerts option
Internet banking Facility
Yono Banking option
State Bank Anywhere for paying fees
SBI quick facility for missed call
Restricted free withdrawals on monthly average balance
Nomination facility for members
Zero balance account facility
Maximum amount facility to unlimited
Passbook to record the transactions
Every month, consolidated account statement
State Bank of India does give multiple options to get their customer account opened through online. Here we bring you the detailed guide to open an account in SBI.
Also read: SBI Corporate Banking Login
State Bank of India Account Types
There are multiple accounts which the State Bank of India does offer to their customers, which can select from the list as per the understanding and usage.
Basic Savings Bank Deposit Account
Basic Savings Bank Deposit Small Account
Saving Bank Account
Savings Account for Minors
Savings Plus Account
Motor Accident Claim Account
Resident Foreign Currency Account
Salary Account
Current Account
The details of each account can known through the online SBI official website. The individual has to select the account and wait for the features page to load, which does contain all benefits and information for the select account type. For more details, please visit oaa.onlinesbi.sbi/sao/onlineaccapp.htm
How soon will the State Bank of India Account be activated?
The soon after the customer has submitted their KYC document offline at the verification process. The account holder will be asked to deposit the minimum balance in the new account which does make the State Bank of India Account active. The account process will hardly take 24 hours form time of document submission.
Does the State Bank of India charge an extra cheque?
The bank does charge minimum charges of Rs 40 to Rs60 for the extra cheque request form State Bank of India. The request for new cheque can be raised form online internet banking page or through visiting the branch with the account passbook.
What happens if I don't maintain SBI Account Minimum Balance?
If your account is not in list of zero balance, then the State Bank of India will have their customers to have minimum balance always available in their account. In failure to maintain the minimum balance, the nominal service charges will be deducted from your account balance.