HDFC NEFT Form in Pdf now readily available to download in online for secure transactions. Just check the link to download HDFC Bank NEFT Form and its timings to process…
Want to transfer money from securely from your HDFC bank account to other accounts, then made transaction through NEFT. To do it just check the information required and HDFC NEFT form followed by it's timings.
National Electronic Fund Transfer which is referred as NEFT is a secure way of money transactions between two bank accounts. There are different types of money transfer such as IMPS, NEFT and RTGS which customers have to use when they are transferring funds from one account to another. NEFT Form is used when a customer is trying to move funds with a secured way and as per guidelines of RBI.
Any amount larger than 1 lakh preferred to send through NEFT only. There are banking guidelines which customers need to follow and send money to make their transaction safe as well as secure.
| | |
| --- | --- |
| Name | HDFC bank |
| Official Site | hdfcbank.com |
| Toll Free numbers | 1800 202 6161, 1860 267 6161 |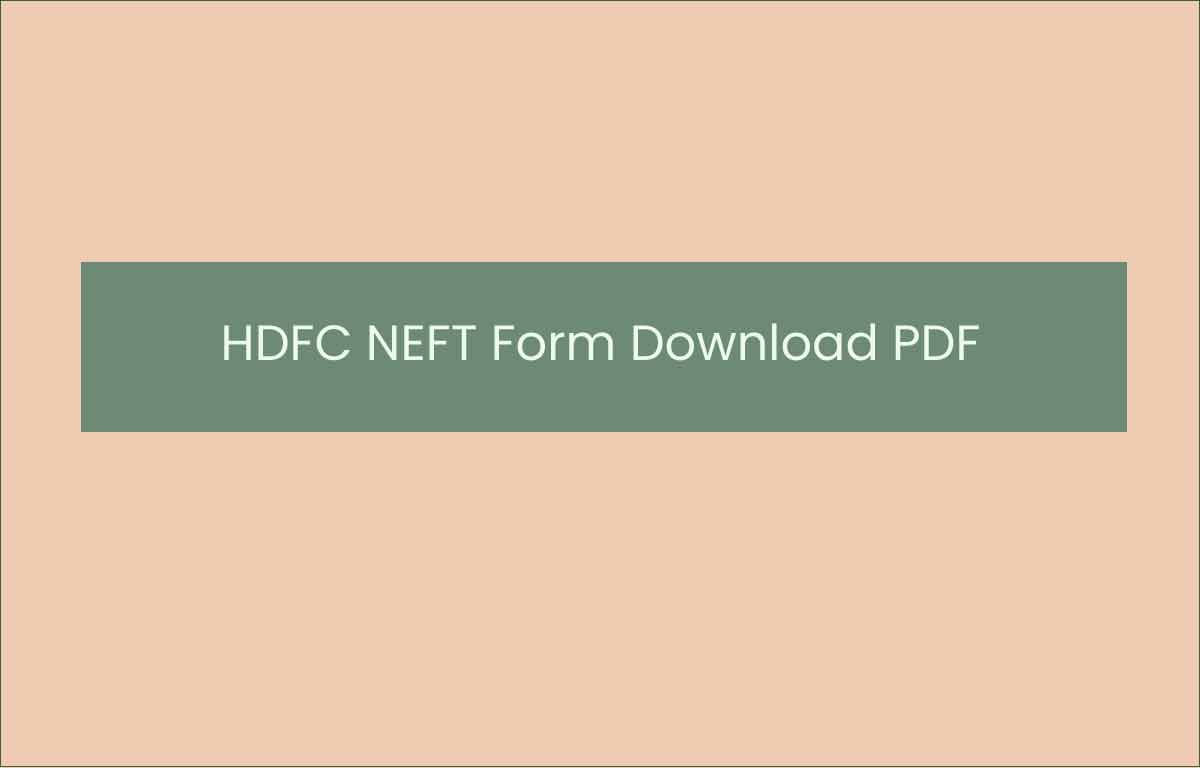 HDFC NEFT Form
The Form can find from the official website of HDFC bank and as well from the Bank branch which needs to fill while sending the amount. The HDFC NEFT applicatio does consist of three parts which need to fill as below stated details.
Customer Details
In the HDFC NEFT application very first column, you need to add your Bank code, bank name, date and time. Here you need to select the option as NEFT and then attack the Cheque number if you're using NEFT form to transfer funds through NEFT.
Beneficiary Details
In HDFC NEFT Form, the beneficiary details you need to fill in are: Name, Account number, Address, Bank Name & Branch, IFSC code and sending amount. All this information needs to update as per receiver bank details.
Remitter Details
The third part of HDFC NEFT Pdf consists of Remitter bank details. Where you need to enter customer Name, Account Number, if non-HDFC bank customers use cash deposit and phone number.
The HDFC NEFT Form needs a dual signature by the and upon successful transfection. Then the bank executive will provide you with the Transaction reference customernumber and the Acknowledgement slip. The slip cut from the same HDFC NEFT Pdf which will give for your reference.
HDFC NEFT Form Timing
The HDFC NEFT transactions can made between 8 AM to 6:30 PM from Monday to Saturday. So the transaction through NEFT will only processed in this timing. Any transaction made outside this timing will not clear until the next day working hours start.
Does HDFC NEFT Form apply any charges on transactions?
Any transaction made from HDFC NEFT Form will apply INR 2.50 including GST for any transaction on INR 10,000. As well, similar service charge applied on any transaction made through NEFT from any HDFC account to any other account.
Why my money is not yet credited through HDFC NEFT transfer?
If you have transferred any amount through HDFC NEFT Form offline form branch or through online mode. The fund transfer will only take place only during the respective banking business hours. The transactions made at the end of the date will clear the next day at the start of business hours.
Can I transfer INR 10 Lakhs from HDFC NEFT Form mode?
The large amount transfer for more than 2 Lakhs will only include RTGS form. As under 2 Lakhs INR the fund transfer will take HDFC NEFT Form. Customers have to choose NEFT or RTGS forms as per their limit of their transactions.