Redeem your RBL rewards to purchase anything online, know RBL Bank reward point query for where you can use it. Simple process for RBL rewards login to rblrewards.com, and for redeem reward points also opening process of digital savings account and uses of super card…
RBL Bank providing digital platform for their customers to claim their credit card rewards points through online. You can earn reward points simply by using your credit card for any purchase. Then you can redeem these points and avail lot of benefits like booking flight tickets, buying gift vouchers and many more.
Name
RBL Bank
Sector
Indian Private Sector Bank
Email ID
secretarial@rblbank.com
Toll free numbers for credit card services
02262327777
Official webpage
rblrewards.com
Email ID for super credit card queries
cardservices@rblbank.com
supercardservice@rblbank.com
Reference: https://www.rblrewards.com/contactus
RBL Bank Rewards Point Query
RBL Bank providing lot of benefits and exclusive offers for their Credit Card holders. It introduced Reward points program for credit card holders, by using this they can do online shopping which is regular in now-a-days.
Most of the banks offering reward points on purchasing by using Credit Card. This points help to reduce cash outflow for further purchases.
Loyalty program offering many ways for redemption. You can use Credit Card anywhere to get reward points.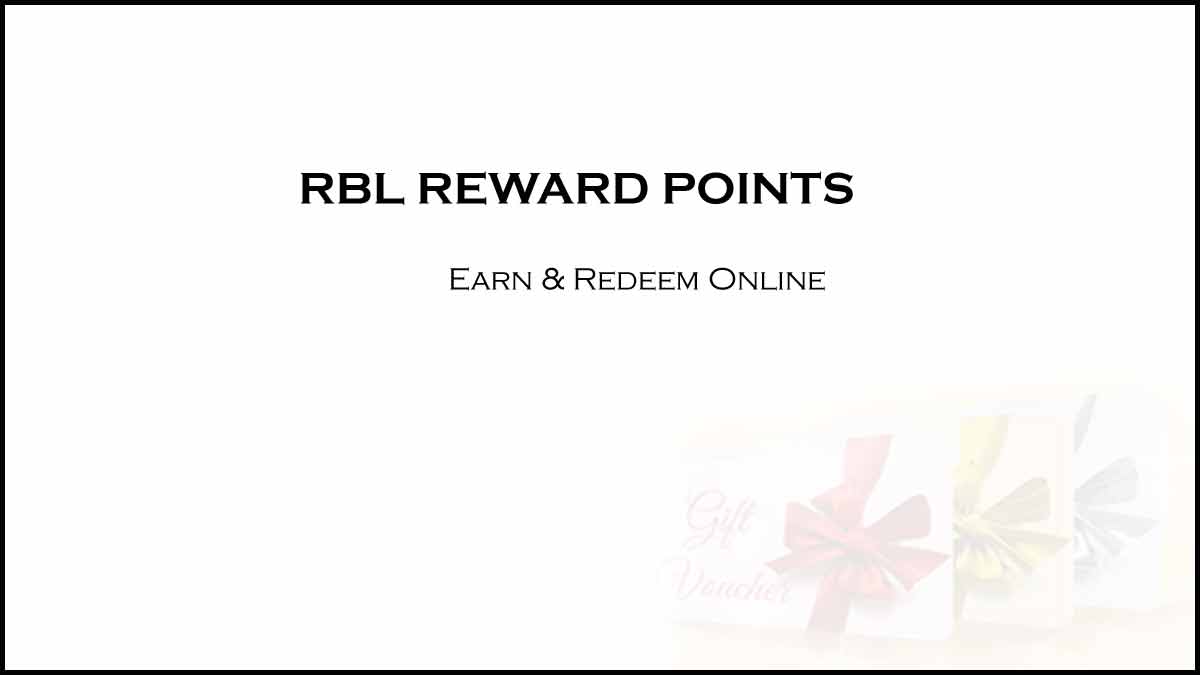 Where can I use my Reward points
Customers can redeem their reward points from official portal to use them. You can use these points in many ways. Some of the available services listed below:
Online shopping
Hotel stays
Booking flight tickets
Mobile recharge
Gift vouchers
Also read: RBL Bank SMS Banking
RBL Card Rewards Login
Login to your RBL rewards to check status of your reward points. Follow below steps to RBL credit card points login
Visit official site of RBL Rewards rewards.rblbank.com
Enter your login ID and password
Click on login
Now you can able to view your rewards dashboard
How to login for RBL credit card
You have to login into Credit Card to redeem reward points. So follow these simple steps to login into Credit Card of RBL.
Open any of the browser and go through this link https://www.rblbank.com/category/personal
Click on Login present at top-right corner
Go for personal banking section
Enter your 16 digit credit card number as user id
You will receive an OTP to your registered mobile number and enter it
Select security question and answer it which you answered earlier
Enter new password and tap on confirm
Now you can login using this password for further use
Also read: RBL Credit Card Payment Online
RBL Credit card reward points redemption Login
Redeem your reward points to purchase something like online shopping, booking flight tickets and many more. So follow these steps to RBL Credit Card redeem login and to redeem your RBL reward point.
Visit official website of RBL rewards or go through this link https://www.rblbank.com/category/personal
Click on Login present at top-right corner and then tap on Redeem reward points under Credit card section
Read the instructions carefully and tap on proceed
Login to rewards portal using your login credentials and then click on Redeem now option
Choose any one of the mode as shopping, recharge or gift vouchers where you want spent reward points
Select and add it to cart
Now Pay the points using your credit card number by clicking on proceed to payment
You have to enter OTP and finally download your purchase details for future references
Reason for creating digital savings account
Customer need to create digital savings account to avail benefits of virtual credit card and reward points. Also get more offers than normal savings account where you can manage your debit card and get instant virtual credit card which helps you in making reward points. Finally redeem reward points and purchase anything by using it.
Also read: RBL Credit Card Customer Care Number
How to open digital savings account of RBL
Go through this link https://www.rblbank.com/category/personal a
Click on open savings account
Tap on Open now and Enter your Email ID and mobile number which is registered with Aadhar card
Fill received OTP and provide Aadhar number and PAN number and click on proceed
click on save and continue and then on proceed
Provide required details and Confirm check box after checking all details carefully
Click on save and continue, fill OTP and tap on proceed
Finally, you will successfully created account and you receive all details like IFSC code, account number also virtual debit card and much more benefits.
Bajaj Finserv RBL bank Super Card
RBL providing Supercard for their customers to get exclusive offers and rewards on daily purchases, welcome bonus and many more
It is a special type of credit card having benefits such as airport lounge access, free movie tickets and much more
You can earn reward points for any purchase
There are lot of Super card variants that has different fee and charges for each.
Can I cancel my flight ticket ordered through RBL?
Yes. It is possible to cancel flight tickets but before 48 hours of departure time of flight. You can prefer to directly contact airline to cancel ticket or just call to the customer care of RBL. RBL bank customers can call to 02262327777 to cancel and also for Supercard customers are advised to call 022-71190900.
Is it mandatory to have minimum balance in RBL digital savings account?
You have to maintain a minimum balance of 5000 in your digital savings bank account. If you are not interested in that, you have a better option. You have to complete SIP or RD but maintain minimum amount of 2000. Also there is no maintenance fee.
Are there any exceptions to redeem your reward points?
Yes. You can use any number of points to redeem and use it. But there is one exception in it. You can a minimum of 1000 reward points to do a prepaid recharge as it is a credit card reward points or Super card reward points. All other purchases do not need minimum count except prepaid mobile recharge.
What is RBL bank balance enqiury number?
The RBL bank balance enquiry number is 18004190610.