Foreign banks in India are very helpful in India to maintain good efficiency in economics. Just check the eligibility for financial transaction at International banks in India…
Banks play an important role in growing the country's economy with their different financial services and investment features. Banks are classified based on their type of ownership and the base location of their establishment. There are a few banks that are not proper from India but have opened their accounts to spread their network.
In this article, you will learn about the different foreign banks in India, along with their importance and a list of these banks as well.
Foreign Banks in India
In India, there are Foreign Banks that contribute to 7% of the total banking sector and bring a marginal profit that adds to the Indian economy. These customers are hardly one percent when compared to other regional banks, state banks, and other private banks. There are certain conditions and eligibility criteria based on which a Foreign Bank can open its branch in India.
Asper the reserve bank of India, the Foreign Banks in India must be based on reciprocity or a single mode of presence. The reciprocity type of banks is given National treatment when they also allow Indian banks to operate from their country without any restrictions. In the Single mode of Presence, the Banks do operate through the Reserve Bank of India in other nations where policy will not be dual shared.
In India there are more than 45 Foreign Banks with over close to 300 branches operating in major cities. These banks operate as regular bank and mostly bring services for international transactions relating to their own country.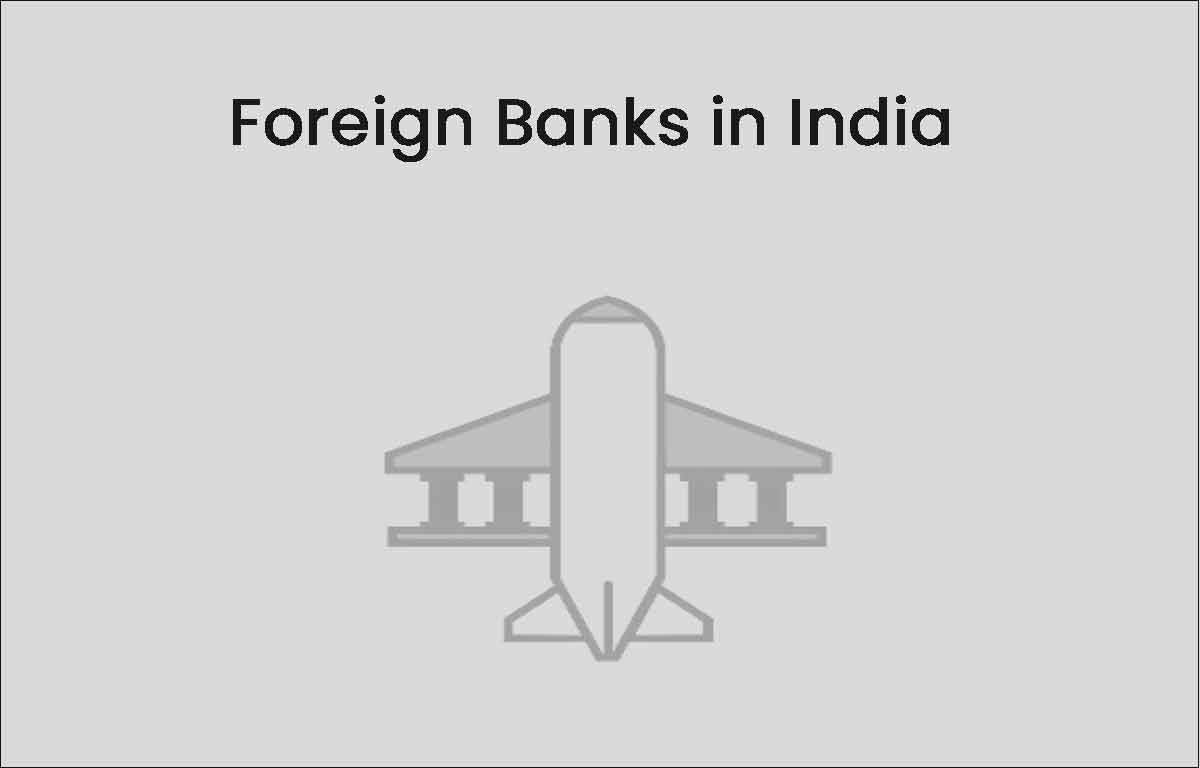 There are certain eligibility criteria that have to be agreed upon and reached by Foreign Banks to operate in India.
The Foreign Banks must operate as per Basel Standard to mandate the capital requirement
The capital requirement for Foreign Banks is INR 5 billion
Foreign Banks must maintain CRAR priority sector targets
Reserve Bank of India Regulation are applied on Foreign Banks
International Banks in India
| Bank | Website of Foreign Bank |
| --- | --- |
| Australia and New Zealand Banking Group Ltd. | anz.com |
| National Australia Bank | nab.com |
| Bank of Bahrain & Kuwait BSC | bbkindia.com |
| AB Bank Ltd. | abbl.com/mumbai-branch |
| Sonali Bank Ltd. % | sonalibank.in |
| Bank of Nova Scotia | scotiabank.com |
| Industrial & Commercial Bank of China Ltd. # | icbcindia.com |
| BNP Paribas | bnpparibas.co.in/en |
| Credit Agricole Corporate & Investment Bank # | ca-cib.com |
| Societe Generale | societegenerale.asia |
| Deutsche Bank | deutschebank.co.in |
| HSBC Ltd | hsbc.co.in |
| PT Bank Maybank Indonesia TBK | maybank.co.in |
| Mizuho Bank Ltd. | mizuhobank.com/india/index.html |
| Sumitomo Mitsui Banking Corporation | smbc.co.jp/asia/india |
| MUFG Bank, Ltd. | bk.mufg.jp/global/globalnetwork/asiaoceania/mumbai.html |
| Cooperatieve Rabobank U.A. | rabobank.com |
| Doha Bank | dohabank.co.in |
| Qatar National Bank SAQ | qnb.com/sites/qnb/qnbindia/page/en/en-home.html |
| JSC VTB Bank | vtbindia.com |
| Sberbank | sberbank.co.in |
| United Overseas Bank Ltd. | uobgroup.com/in |
| FirstRand Bank Ltd. | firstrand.co.in |
| Shinhan Bank | in.shinhanglobal.com |
| Woori Bank | go.wooribank.com/in/ib/main/IbMain.do |
| KEB Hana Bank | global.1qbank.com/lounge/chennai/et/main.html |
| Industrial Bank of Korea # | in.globalibk.com/home.jsp |
| Bank of Ceylon | bankofceylon.in/ |
| Credit Suisse A.G | credit-suisse.com |
| CTBC Bank Co., Ltd. | chinatrustindia.com |
| Abu Dhabi Commercial Bank Ltd. | adcbindia.com |
| Mashreq Bank | mashreqbank.com/uae/en/international-banking/network/india |
| First Abu Dhabi Bank | nbad.com/en-in/business-banking.html |
| Emirates NBD Bank | emiratesnbd.co.in |
| Barclays Bank | barclays.in |
| Standard Chartered Bank | sc.com/in |
| NatWest Markets | natwestmarkets.in/index.html |
| American Express Banking Corp. | americanexpress.com/in |
| Bank of America | bofa-india.com |
| Citibank N.A. | citibank.co.in |
| J.P. Morgan Chase Bank N.A. | jpmorgan.com/country/IN/EN/india-products |
How many foreign banks in India?
India has advanced its growth in the banking sector leading to the financial growth over the time and this has got India 46 foreign banks.
Which is the largest foreign bank in India?
Out of all the 46 foreign banks in India, standard chartered bank is the largest bank and it has its presence across India in 100 different branches.
Can I transfer money to foreign banks in India?
Yes, you can transfer the money to foreign banks in India which are among the 46 listed foreign banks. Meanwhile, for international transfer of money there can be international charges applicable as well.
Where to find list of foreign banks in India?
The list of 46 foreign banks can be found on the RBI's official website as they keep track of all foreign banks.