Login to Canara bank net banking after registration | Check the new process for online net banking self user registration and access…
Canara Bank has been providing service to their customers since 1906 and in this meantime it has seen great growth, and the banking network in modern technology and providing easy services to every customer in their footsteps has emerged with great technology growth.
Canara bank net banking service by giving various options to the customer which enables them not to walk to the branch office to use every option. Bank as well got their branch setup virtually with having multiple customer support assistance which ensure that their customer account creates online and as well get used to other services.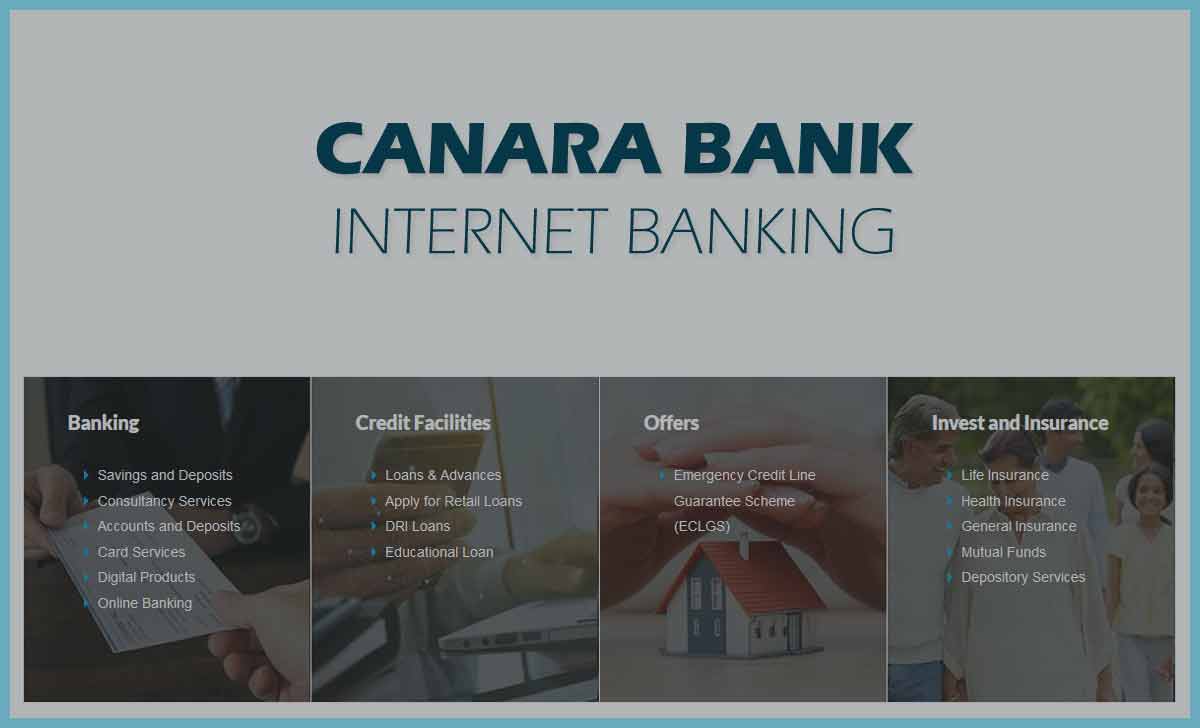 Canara Bank Net Banking
The internet banking service of Canara bank does bring a very easy way to transfer money, move funds, or accept funds. Getaway to check your statement regularly with your valid login credentials. Now check how your funds moved along with having a greater option to modify or set up a limit for usage on transactions.
As well, customers do get an option to order a debit or credit card form online with having another option to block them instantly in case of emergency, and there are a variety of options that one can use using the Canara Bank Net Banking Portal.
View Account Statements in month, quarterly, 6 month or customized
View your previous done transaction
Open fixed Deposit online
Open the recurring deposit online
Request cheque book
Request Debit card or Credit card
To get access to the Canara Bank Net Banking services, one should get themselves registered and login with in the online portal. So here 25penny.com provides the detail steps and get your Net banking credentials activated.
Canara Bank Internet Banking Registration
Visit the internet banking official website at canarabank.com
Click on Net banking
Select Retail/corporate
Click on New User and wait for a new page to load
Tap I Agree
Fill in your details on the displayed page
Click on I Agree, and an OTP may sent to your mobile number
Click on OTP Password
Submit OTP then wait for the Password page to load
Enter your Login password as per your choice
Click on Submit (Make sure you don't enter your name or known words in the password)
Wait for a successful message to display on your screen and then you can start using these Canara bank net banking login credentials to access their different services online.
If you're a new user and don't know how to get started with the Canara Bank Net Banking service, and they do follow these steps and we will let you know how to log in to the internet banking portal to access the different services.
Canara Bank Net Banking Login
Visit official Canara Bank web page at canarabank.com
Click on Net Banking from the top right corner of the page
Select the language as English or any to display
Enter your username and password
Provide captcha code
click on the Login button
Wait for the page to load and display your details at the top
The home page will have your name along with other options
The Canara Bank Net Banking page will loads
Click on any service link from the screen to opt for that and use them for your financial transaction.'
ALso read: Canara Bank Customer ID
How to Reset Canara Bank Net Banking Password
It is obvious that people do forget their net banking password if they don't get that used regularly. In any such condition, just reset with new password using username and register mobile number of Canara Bank.
Go to the Net banking page at https://canarabank.com
Click on Forgot Password to get a new page
Enter your username, date of birth, and other details as asked
Select an option to reset your account by providing the details
Fill in your account number which has been provided on your passbook
Once the details checked and verified, your new password accepted by the Canara Bank internet banking and can use to access your online service page. Without having the ID proof or KYC attachment with bank, customers not able to change their password online.
Also read: Canara Bank Balance Check Number
Frequently Asked Questions
1: How can I check if my account has a Canara Bank Net Banking service?
Ans: As per the regulation of the Canara Bank, any account holder who is having their account in the Retail or corporate section of the Bank, can register themselves with the Canara Bank by providing their mobile number and other details for verification.
2: Can I transfer money multiple times through Net Banking?
Ans: Yes, Canara Bank does allow you to send money to anyone in your net banking beneficiary account any number of times. As per the godliness, customers are free to use their funds through the Canara Bank net banking page until they have crossed the daily transaction limit.
3: Can I stop cheque form Canara Bank Net Banking?
Ans: The customer who has issued a cheque and does want to get it blocked due to any kind of reason, and then customers can log in to their Canara Bank Net Banking page and visit the cheque option to stop the cheque that was issued by entering their number.
4: Does Net Banking provide an option to generate TDS?
Ans: The customer can get their TDS or income tax profit from the Canara Bank Net Banking portal, and this does directly generate your report and ensures you have got your form 16 or any information required in quick time.
5: Can Canara Bank Net Banking username changed?
Ans: No, the username once allocated for an account cannot be changed. During the registration process, the option to select a username will be on the customer's choice. Thus that cannot be changed anywhere once it has been assigned to your account.