Create SBI credit card login | Access your online sbi card account to pay bills and modification on card services…
Owning a credit card is not a minute thing and it becomes a hassle if you are not able to address the payment dues which you can only know. When you can access your online portal for the credit card through which you know about SBI credit card payment due and when so as to someone can arrange the money required and ensure the proper flow of their finances as well.
It goes the same for anyone who owns a State Bank of India credit card because SBI is one of the largest financial banks in India and it provides credit cards to a lot of users so they eventually understood that users need their online portal to manage their cards, their expense, EMI, billing and payment dues.
SBI Credit Card Login
In this article we will be going through to help you register your SBI credit card with an SBI card online account which you will be able to access through user id and password which we will also learn through this guide.
So, basically you will understand the process to register your account, get your login credentials in the first, and then 25penny.com will talk you through the process to learn how to login to the SBI card platform and lastly teach you on how you can retrieve your user id and reset your password as well.
Requirements to register for SBI Card account online
Before you continue to register your SBI credit card online account you will need to check if you meet the requirements to continue forward.
Have an active SBI account
Should also have an active SBI credit card and debit card
You can only activate or link your main credit card with your SBI card platform which shown
So if you already have your SBI credit card login then you can go through the instructions below that will help you to register for your credit card online.
SBI Credit Card Login Online Registration
Go to sbicard.com
Click on the Register Now button under "New User Register Now"
Enter your credit card information like Card Number, CVV Number, Date of Birth
Fill in the above details, and click on the proceed button to continue
Check your registered email address and phone number.
Enter OTP
Click on the proceed button
Enter new User ID and a new password
Provide confirmed password
Click on the confirm button which creates your account and link with your SBI credit card in quick time.
Now you have successfully registered for the SBI card online account. This is now linked with your credit card as well which you can use to log in to your platform.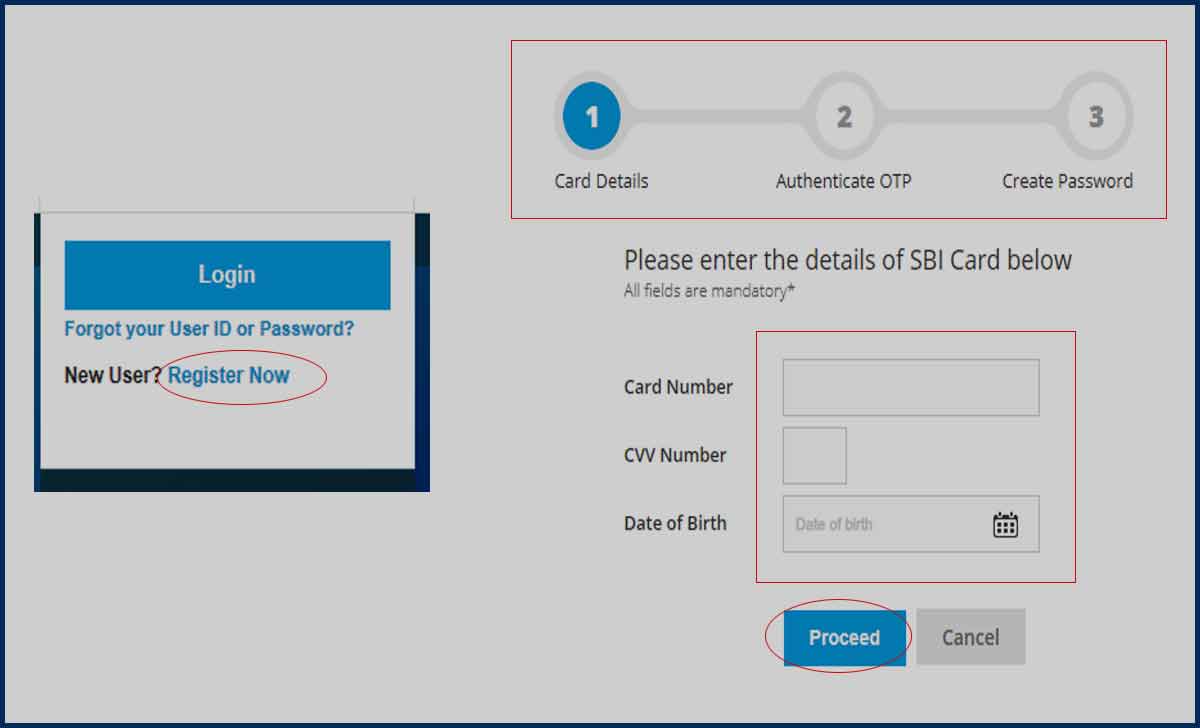 After completing registering for the SBI credit card online, it becomes an easier process to manage all your credit card bills. Also, even applying for a new credit card online becomes quick.
In order to avail of all these features, you will first have to access SBI credit card login online platform and the login process. Just have a look to learn from below.
SBI Credit Card Online Login
Open your browser and visit the sbicard.com
Click on the "Login" button at the top right corner
Enter User ID and Password
Click on the login button which will now give you access to your account.
SBI Credit Card User ID Password Forgot Reset
It is important for anyone who uses a credit card to know their account login details. It is in order to message expenses, billings, and more online even in case of security or some other requirement.
But in case if you forget your username or password then it might become a huge problem leaving you not being able to make any security changes to your credit card during the needful time.
So, go through the instructions below. You will learn to retrieve or reset the user id and password for the SBI credit card login account.
Go to sbicard.com and then from the homepage
Click on the "Forgot your User ID or Password" option and this will redirect you to their password reset page
On the next page, enter your SBI credit card details asked (Card Number, CVV Number, Date of Birth)
Check all the details entered and then simply click on the Proceed button to go further
Enter the OTP received on your registered mobile number
Click on the verify button which will verify your account and continue forward
On the second page you can see on the top section your username will be mentioned
You will now have to create a new password
Enter the confirmed password as well
Once done, click on the update password button
Click on the "Take Me To Login" option. This is how your account user id can retrieve while resetting your account password as well
How to change State bank of India Credit Card Login PIN?
The State bank of India login PIN can be changed by visiting the SBI ATM. Customers have to follow the steps of ATM PIN change and provide their credit card number to change the PIN.
What happens if I miss SBI Credit Card Outstanding due date?
The State bank of India does bring 21st as their outstanding due date, and in case if you have missed the due date the interest will be applied on your total outstanding due amount.
Is the State bank of India Credit Card free?
Yes, the State bank of India Credit card is free of charge and the customer will only have to pay the charges for their usage. There will not be any excess amount deducted by the bank for using an SBI credit card.