Absolute simple and effortless methods are available to know about how to delete a credit or debit card from Amazon account including gift card via browsing through online portal, android device, iPhone or iOS, along with add on a card to your Amazon account.
Why do We have to Delete a Credit/Debit Card from an Amazon Account?
Before speaking about how to remove credit or debit card from Amazon accounts, Let us know why you should it is necessary to remove credit/debit cards from Amazon accounts.
Paying via Credit card or Debit card is one of the easiest modes of shopping online, but some of the important reasons you should avoid adding your credit/debit card on Amazon account.
Avoid unintentionally orders. Most cases of accidental orders have been done by kids. Unforeseen cases come to know, these unwanted orders have been done by misusing 'Alexa' and 'Siri' kind of 'smart gadgets'.
You can ledge those incentive purchases by removing your credit/debit card details from your Amazon account.
Purchasing products via Amazon is not the best way of shopping. Sometimes, buy your necessities after comparing.
Feeding your credit/debit card details for each and every purchase, so you can make sure the transaction is safe transaction of all time.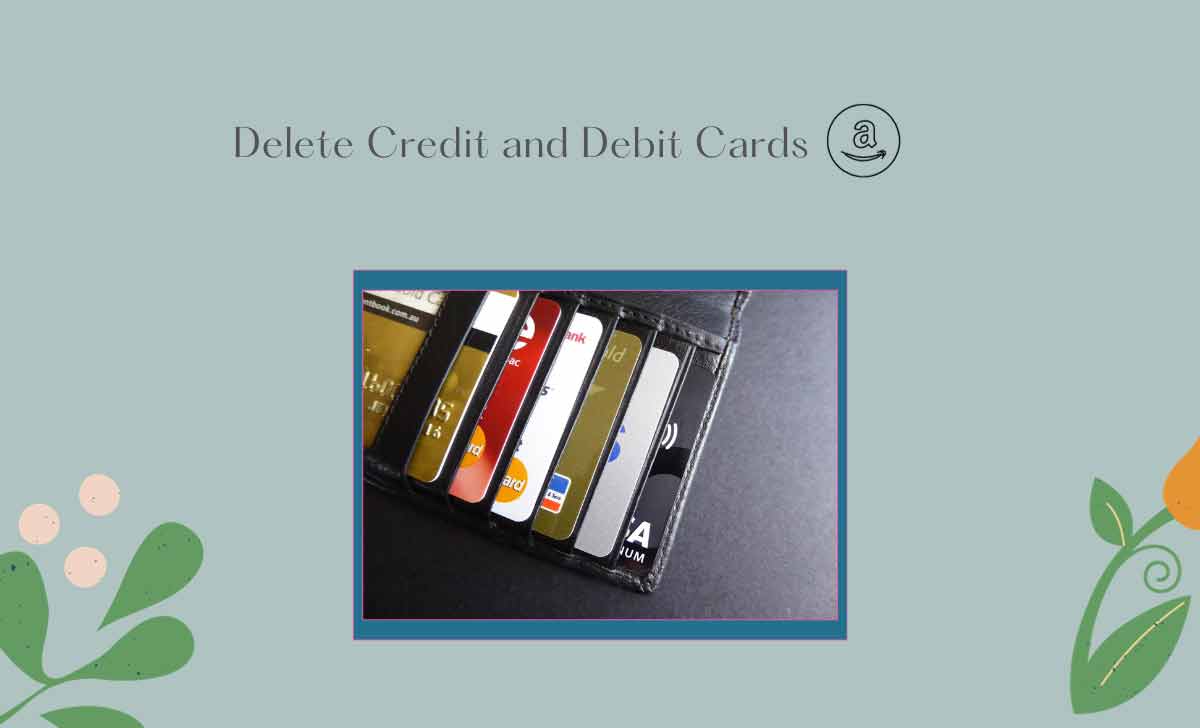 How to Remove Credit/Debit Card from Amazon Account (On Android Device)
If you want to delete credit or debit card from Amazon account using your android device, there are two ways. One way is through web browser like Google Chrome and through Amazon mobile app. So to do this, you can follow the simple steps mentioned below:
Through Mobile app
Open your Amazon account.
Click on Menu located on the right bottom of the screen.
A new page will open, go to the Account button.
Scroll down, select the option Manage payment option.
Tap on the Remove button.
Click on Confirm.
Check the Wallet option, you can see your payment method is removed.
Through Online Portal
Browse Amazon.com on your device
Click on Sign in
Enter your registered mobile number or Email
Provide Password or you can login with OTP by selecting Sign in with code option
Your Amazon account homepage opens.
Click on Menu and follow the same steps that we followed in above methods.
How to Remove Credit/Debit Card from Amazon Account on iPhone/iOS
Removing credit or debit card from amazon account using iPhone is almost a similar way that we followed for android device. But here you use Safari browser for online portal and Amazon mobile app.
Open the Amazon app
Click on the three horizontal bars positioned on the bottom right corner of the homepage of the Amazon app, opens a Menu page on the screen.
Click on Your account
Select Manage payment option in the drop down of the Amazon wallet.
Select the Delete icon found just after the Edit icon. A confirmation page will open up.
Click on the Confirm button. This will confirm and lead to delete your credit/debit card from the Amazon app.
Click on the Update button, this will update your Amazon account to input a new credit/debit card information.
Select the OK button. Your account is updated now with no more credit/debit card details.
How to Remove Gift Cards from Amazon Accounts
Login to your account on your PC or Mac
Tap Account and Lists, located right of the search bar.
Click on Your account from the pull-down list box.
Scroll down, click on Payment options located towards the left column.
A page will be visible with all the payment methods of your purchase history of Amazon account.
Select the payment method, gift card (under the condition) which you want to detach.
Click on the arrow pointing downwards to open the drop-down split list.
Tap on the Remove button of the drop-down split list.
Click on Confirm remove on the alert display.
How to Add a Card to an Amazon Account
Nowadays, Amazon Pay accepts credit or debit cards including Visa, MasterCard, Discover, American Express and many more. Add a card into your amazon account by following few simple steps.
Open Amazon app.
Tap on Profile.
Go to Your account.
Click on Your payment option.
Click on the Add payment Method button.
Select Add a Credit card option.
Feed your credit or debit card details.
Click on the Add your card button.
Is it possible to maintain multiple debit and credit cards on Amazon account?
Yes, it is possible to maintain or to add multiple debit or credit cards on amazon account to make different purchases at different situations. Also it is beneficial to add a backup card to avoid any technical issues. You can add different type of cards into your amazon account.
What can I do if it making trouble to make payments through added cards in Amazon account?
You can simply contact customer care services of Amazon. To do this, you can contact through phone, email or through chat option.
What happen if I delete a credit or debit card that is linked with an open order?
No, it is not possible to delete a credit or debit card that already linked with an open order. You have to wait until your order arrive or just cancel the order if you want to delete the card.
Can I delete a credit or debit card that linked with recurring subscription?
It is possible but you have to update the new payment method like adding a new credit or debit card for next subscription will not effect anything. But if you delete the card linked with your subscription directly, your subscription will also cancel.