Enjoy the services of HDFC Zero balance account. Just check the eligibility, documents required and complete guide to open Zero account in HDFc bank…
HDFC Bank Zero Balance Account
HDFC Bank brings the Basic Savings Bank Deposit Account for individuals who are eligible for a zero balance account. The concept of HDFC Zero Balance Account for the farmers and low income groups has been initiated by the government to ensure everyone has access to the Bank account.
The Basic Savings Bank despite an account from HDFC Bank which the Zero Balance account will ensure to provide all facilities to the customer with their limitations. Hence account holders will get free debit card and as well free IVR phone banking as like the Savings account bank holders. So customers who are eligible for HDFC Bank zero balance account can visit any nearest branch and open the same.
| | |
| --- | --- |
| Name | HDFC |
| Service | Banking service |
| Toll free numbers | 18002026161, 18602676161 |
| Email ID | lea.communication@hdfcbank.com |
Also read: HDFC Balance Check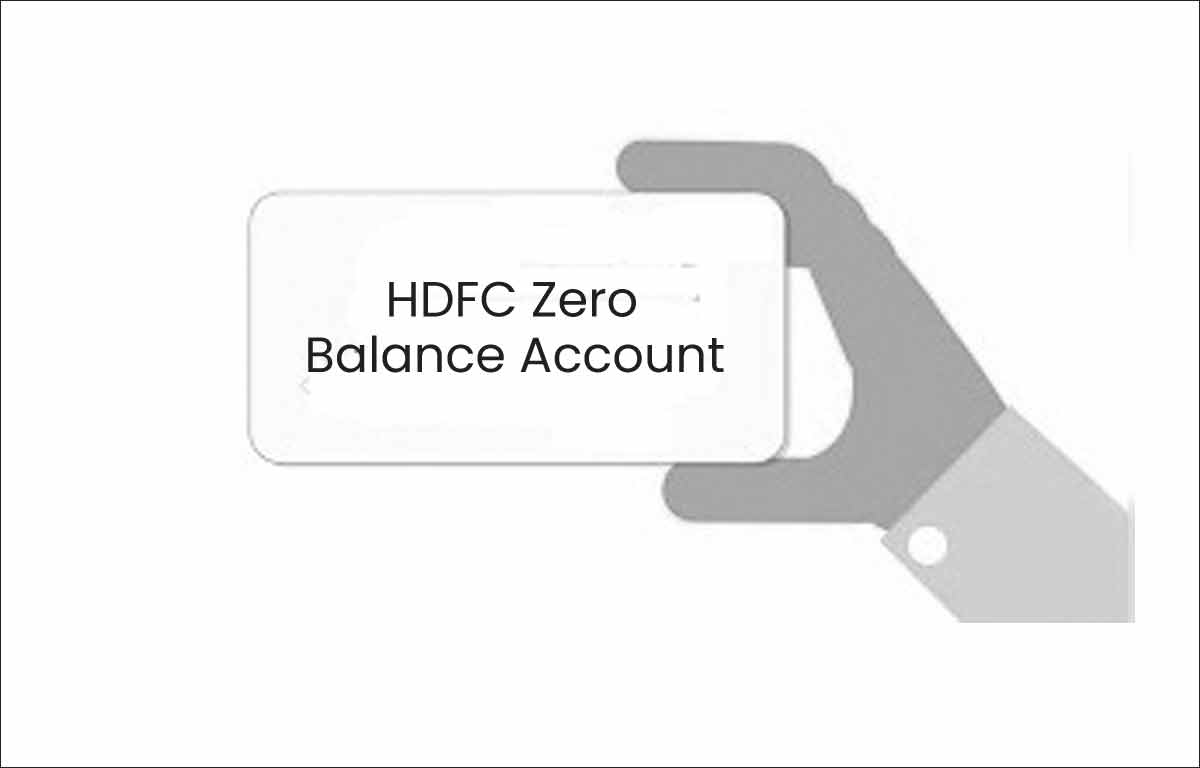 HDFC Zero Balance Account Services
Let us go through some services which the HDFC Bank Basic Savings Bank Deposit account can be availed from the bank by the eligible customers.
No initial deposit amount required to open the Account
No need to maintain any monthly average balance
Free charges to be levied on non-maintenance of the account
Can activate Dormant account without any charges
Free cheque book
Free international accessible debit card
No charges to be levied on cash deposit
Get 4 free monthly cash withdrawal limit
Free insta query facility
Get free Bill Pay lifetime
Free email updates with statements
Also read: HDFC Customer Care Number
Eligibilty for HDFC Bank Zero Balance Account
To have the Basic Savings Bank deposit account from HDFC Bank, the customer must be from one of the categories.
Citizen of India
Individuals must be daily wage earner and most preferably a farmer
Account can opened jointly or solely
Also read: HDFC Credit Card Payment
Documents required to open HDFC Zero Balance Account
The individual who seems to be eligible to get the HDFC Bank zero balance account, can move with the documents listed below as their proof to submit while opening the account.
Passport size photograph
KYC documents as per Bank norms
ID proof such as Aadhar Card or PAN card
Address proof documents
Zero balance account application form
Basic savings bank deposit account declaration form
Also read: HDFC Bank SMS Codes
HDFC Zero Balance Account Opening Online
The process to open HDFC zero balance account is very easy if you're eligible as per the bank's regulations. Here is the process which you can follow and get to know how to open a zero balance account.
Locate and visit the HDFC Bank nearest bank branch in your area
Get Basic savings bank deposit account application form
Enter details in application form and update as per KYC documents
Attach KYC document and photograph with application form
Submit field in Application form and receive the acknowledge receipt
The account will be opened and account number will be allocated
Also read:
Can I add 1 lakh to my HDFC Bank Zero Balance Account?
Yes, the customer who has the zero balance account can deposit 1 lakh amount in their account. The account cash withdrawal must be as per the Bank's norms and excess transactions will charge you over 50 INR per transaction made.
Is HDFC zero balance account eligible for credit card?
The HDFC Bank Zero balance which is also referred as Basic Savings Bank Deposit account is only low income group individual and the credit card facilities for them is not enabled. Credit cards are provided based on fixed income and proper financial eligibility.
Can I convert my Savings account into HDFC zero balance account?
Yes, customers who have earlier opened their savings account in HDFC can visit the branch with KYC document and get their account changed to zero balance account. The conversion will only be based on documents provided and with proper verification by the bank.