Avail services of FMS BSNL to get better services and affordable commission from ISP. Just check the new reports of business commissions at fms.bsnl.in and Benefits of BSNL FMS login with simple guide…
Bharat Sanchar Nigam Limited is India's Largest Telecom service provider that brings various options for the consumer in their daily routine.
Despite having consumer services such as mobile, data, internet broadband and landline services, it also services customers with its Franchise Management System.
FMS BSNL
The FMS BSNL system well designed to allocate the services in the hands of Customers and thus make them their partners to spread across the states.
The Franchisee venture into urban and rural areas by building the largest base in the Indians cities and villages. BSNL does provide 50% commission to the franchise partner with encouraging individuals, business, societies and other firms to participate.
The customers who want to be with the BSNL and spread their services will get the below given benefits.
Good amount of commission and as well activity based commission
Brings Quality services in all parts of villages and urban areas
Does gets chance to increase the number of BSNL users
Venture into both rural and urban areas
Improve usages of Digital gadgets and internet services
Setup of active support center in arrears to increase BSNL customer services
Below are listed types of users, who can be part of BSNL Franchisee Management System by using fms bsnl.in
Local cable operators
Resident Welfare Association
Telecom Infrastructure Provider
Builders
System Integrators
Local Cable Operators
BSNL Retails Owners
Direct Selling Agents
Telecom Service Provider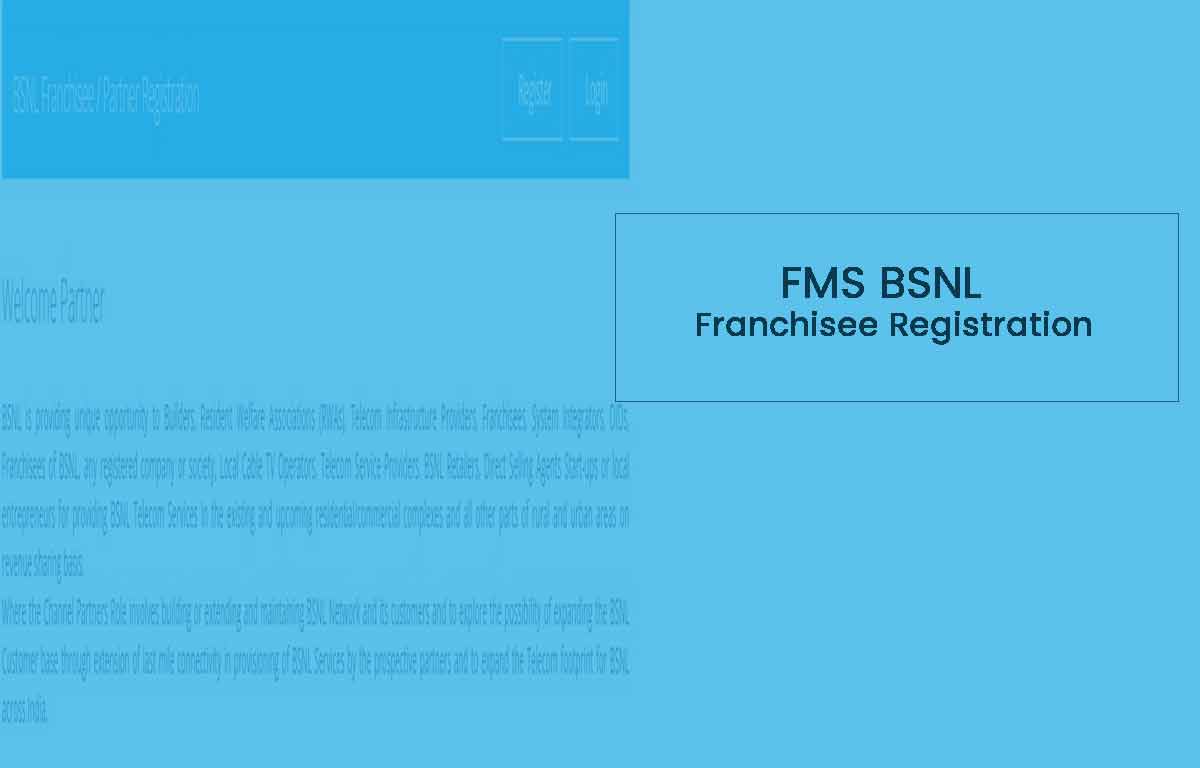 fms.bsnl.in Registration
The process to register with the BSNL as a Franchisee detailed below, you can follow the steps provided below and get your registration as a Franchise successful.
Open the BSNL FMS registration using URL fms.bsnl.in
Tap on Register Button from the HomePage to open the page
Enter details as name, email, mobile number and city
Provide your address and check the information while submitting
Click on Submit button and then wait until your application reviewed
Please note that once your application submitted, you will then contacted by their team for further help and support to take the discussion forward.
BSNL FMS Login
After complete acceptance of registration by BSNL, Franchisee can login to the BSNL FMS portal. Login details send by them to registered mobile number and steps to login are discussed below
Visit the official website fms.bsnl.in
Here click on LOGIN option.
Enter User name and password.
Now tab on login option.
So you are successfully login to the home page.
What is BSNL FMS?
FMS BSNL stands for Franchise Management System BSNL where others can apply to be in partnership with FMS BSNL co in a BSNL franchise for 50% commission of their services and products.
What is FMS Portal?
In order to apply and then login as well, you can visit the FMS Portal from fms.bsnl.in.
What is Franchisee Code BSNL?
Franchise code in BSNL provided once you may approved to be a Franchise owner for BSNL and this code is what represents your Franchise in the FMS BSNL system.