Login to WBIFMS to get the benefits of employee services. Know complete guide on how to register WBIFMS and login process in official portal to avail their services…
WBIFMS
West Bengal Integrated Finance Management System WBIFMS is a web portal for finance management of West Bengal. It controls all budget tasks and expenditure accounts with receipts of all state government transactions and working together with RBI, account general and some other banks linked with RBI. It's main motto is to deliver better service to the public of West Bengal.
| | |
| --- | --- |
| Name | West Bengal Integrated Finance Management System |
| Official Website Portal | finance.wb.gov.in/New_Fin/HomePage.aspx |
| Service | Finance management of state government |
| Working with | Reserve Bank of India, Account General and Link Banks |
| Toll free number | 033-22535570 |
| Help Desk number | +91 9038003413/14/15/16/17 |
| Email Id | gripswestbengal@gmail.com |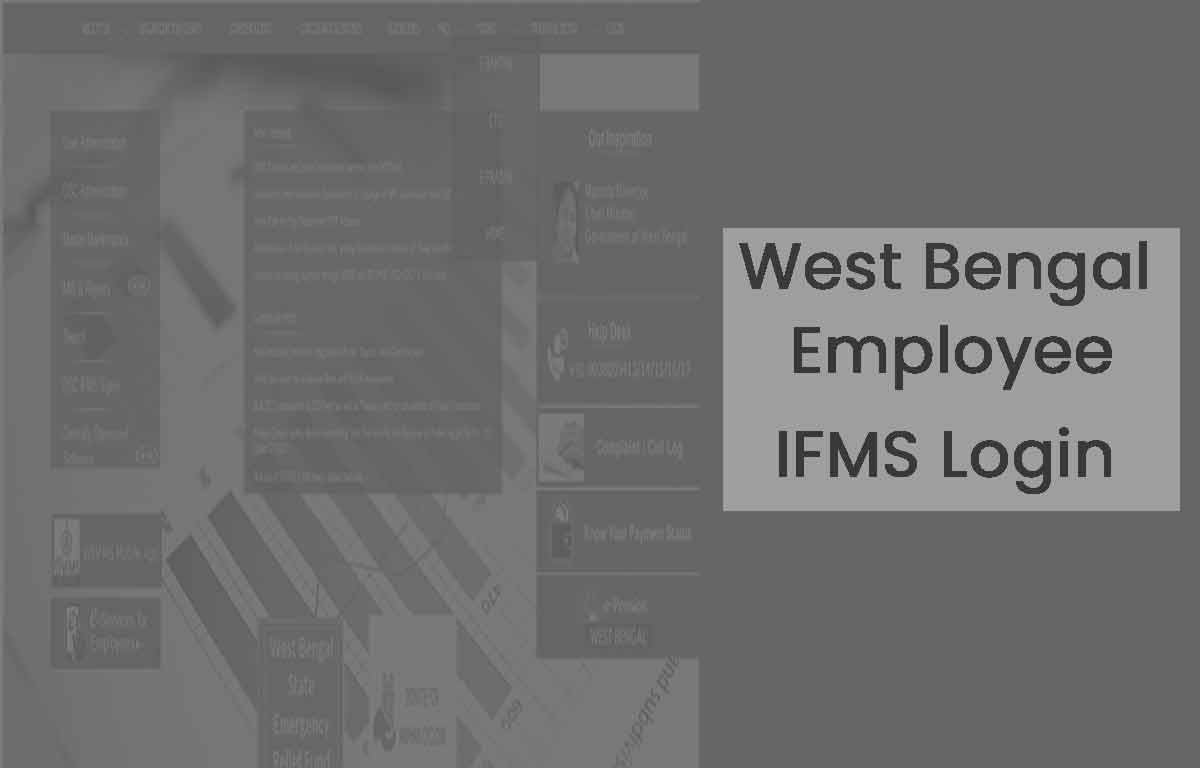 WBIFMS Portal Registration
Every employee of the West Bengal state government must register with the IFMS portal to access the online services. follow the below steps and get your WB IFMS Login credentials generated.
Go to the IFMS portal for West bengal using the URL link wbifms.gov.in
Tap on Login button for top left corner of page and Click on Sign up for registration and then wait for page to load
Enter your employee ID and then following with your mobile number and Pass your other details as required for registration page
Fill security code and then enter OTP received to registered number
Look over all your details and click on register button to proceed
Once verified, click on declaration box to proceed further
Check the information again and Tap on create my Account tab, Now system will fail you details and shows a success message on screen
Once verified, users will receive a password to their registered mobile number, as a confirmation to their WBIFMS Employee login registration. The username for IFMS Employee Login will your employee ID used during registration which must used along with password
WBIFMS Login
The website Bengal IFMS portal is for the government employees, who can access their employment services from online. Follow below steps to access the WBIFMS Login Page online with your credentials after registration..
Visit the official website of West Bengal IFMS portal form your browser or go through this link wbifms.gov.in
Click on Login button from menu option
Enter your Login ID and Password in respective columns
Tap on login button wait for your credentials to be verified
That's it, Once verified your account details, employees will be given access to the WBIFMS employee page. Here they can check their services and use any of the options as per their convenience.
Who can access WBIFMS Portal Online?
Employees who are working under the state government of India are eligible to access the IFMS Portal online website. As well, the retired employees of the state government will allow access to check their pension related information along with other employee term information from the portal.
Does an employee need to register themselves with WBIFMS Portal?
Yes, every employee who is working in the state government of India is ask to register with the WBIFMS Portal. They need to register with a portal with the details they have already provided in their employment details. Upon verification of employee details with registration details, an employee will allow to access the IFMS Portal.
What is the WBIFMS Portal?
West Bengal IFMS portal is a platform that is e-enabled to provide better services to the employees. The integrated financial management system consists of a budget and treasury function which makes it easier for salary disbursement and ease the work of account expenditure.
Can I Download pay slip from the WBIFMS Portal?
Yes, employees will have access to download payslips from their employee credentials even from last year. The portal will have last few years details of employees which makes the employee easier to download their last to last year payslip as per their wish for consideration.