Detail information on Types of SBI Life Insurance policy and Know how to make SBI Life online payment through different modes like ATM, SBI bill pay and also through SBI Life portal…
SBI Life Insurance was founded in 2001 with an joint venture of BNP Paribas card and State Bank of India. It was SBI who got the insurance as a boost in India and since then everyone started to move towards the Insurance plans.
The plans do provide a lot of dexterity along with being versatile to every Indian, who can meet their expense during the time of emergency.
There are different plans, which one select from SBI Life Insurance and gets their future secure with predefine thinking. Insurance may considered an option in human life as to ensure their families stay safe on their back or won't suffer during any case of emergency.
| | |
| --- | --- |
| Name of the Service | SBI Life Insurance Online Payment |
| Allowed Modes | Online, ATM, UPI and Offline |
| Customer Care | 18002679090 |
| Website | sbilife.co.in |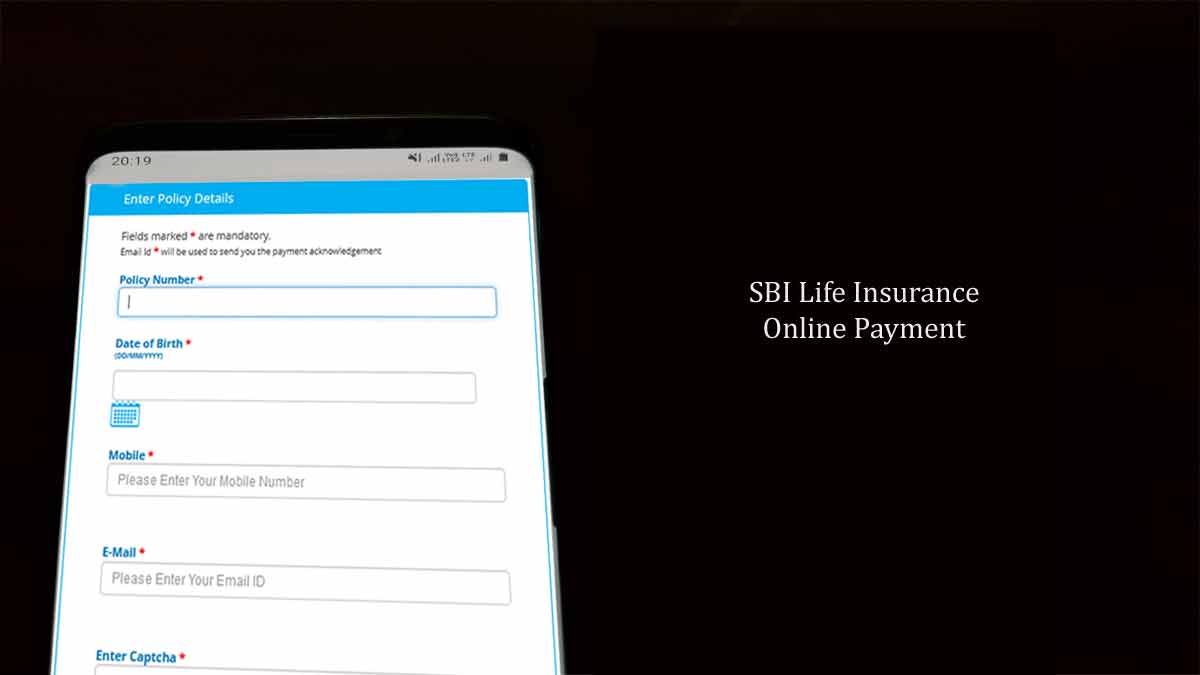 Types of SBI Life Insurance Plans
State Bank of India provides majorly different plans for every individual which they can opt for their Life Insurance policy. They are
Individual Plans
Group Pans
Online Plans
These are three major categories which one can adopt as per their recruitment.
There are numerous ways through which one can make their SBI Life Insurance online payment and get their insurance policy to be active to meet their sudden expenses.
Customers can use the SBI Life website to make their SBI Life Insurance Premium paid through online. Follow the below given steps and get your premium amount to pay.
SBI Life Online Payment
Visit the SBI Life Insurance website sbilife.co.in
Scroll down and Click Pay Premium
Enter your SBI life policy number
Provide Date of Birth, Mobile number, Email ID
Enter the captcha shown and Click Submit
Find your SBI Life Insurance plan details
Verify premium amount and click on pay button to proceed
Select the payment mode and tap to confirm the same
That's it, Once your SBI Life Insurance premium payment confirmed, your policy may update with your amount paid and your policy may set to active further.
SBI Life Insurance Payment Through ATMs
Customers who have SBI Life Insurance and want to get their premium paid, can reach out to ATMs to get their dues cleared. Do follow these steps and clear your SBI Life premium payment due.
Visit your nearest SBI ATM and swipe your SBI Debit card into the machine
Click on Payment and select Insurance Premium Pay
Enter SBI Life insurance number and Tap confirm
Verify your premium due and then tap on Pay button to proceed
Provide your PIN number and wait for the amount to be deducted
That's it, SBI Life online payment through ATM processed and your policy account may instantly updated with the premium amount, making your policy active.
SBI Life Online Payment Through Bill Pay
Customers can use the Bill Pay website to pay the premium amount toward their SBI Life Insurance policy. Here are the steps that you can follow and get the premium amount to pay through Bill Pay.
Visit the official website of SBI Bill Pay from your browser
Select SBI Life Insurance and then select your insurance plan type
Enter your policy number along with other details
Verify the premium amount and click on Pay button
Select the payment method to pay our premium amount
That's it, SBI Life online payment through Bill Pay processed and your respective policy account updated with the premium amount paid.
What if I miss my SBI Life Insurance Online Premium Payment?
As to keep your SBI Life Insurance policy active, customers should make their premium amount on time. If payment is delayed, the policy will be set to hold, and it won't be useful during your time of emergency. Benefits of policy will not be processed if premium has not been paid or it is due.
Can we change SBI Life Insurance in mid-way?
It is always a customer 's choice to change their SBI Life Insurance policy, customers need to connect with their executive or directly visit the SBI life website to change their policy adopted. As per guidelines of the policy, customers can anytime make changes and get benefited with policy features.
Can I upgrade SBI Life Insurance after paying one premium?
Any changes in the SBI Life Insurance policy must be processed by connecting with the SBI Life Insurance customer executive. Only after guidance with the executive, customers can approach to upgrade their total value, else they must continue paying the same said premium amount.