PNC Credit Card is a type of credit card offered by the PNC Bank to meet the needs of different individuals. It offers unique rewards and benefits to cater to diverse customer needs. Each Visa PNC bank credit card includes the following features:
Comprehensive 24/7 Security Protection: Safeguarded against credit and identity fraud,
$0 Fraud Liability: Any unauthorized charges are our responsibility.
Efficient Online Account Management: Track transactions, rewards, balances, and make payments conveniently,
Seamless Electronic Bill Payment: It ensures timely bill settlements.
Automatic Travel & Emergency Protection: Benefit from automatic coverage, whether you are home or away.
PNC Bank, or The PNC Financial Services Group, is a major American bank headquartered in Pittsburgh, Pennsylvania.
It is one of the largest and most recognized banks in the United States, providing a diverse range of banking services to individuals, businesses, and government entities.
PNC Credit Card
It is crucial to understand that the terms and conditions of credit cards, such as interest rates, fees, and rewards, can differ based on individual creditworthiness and other factors.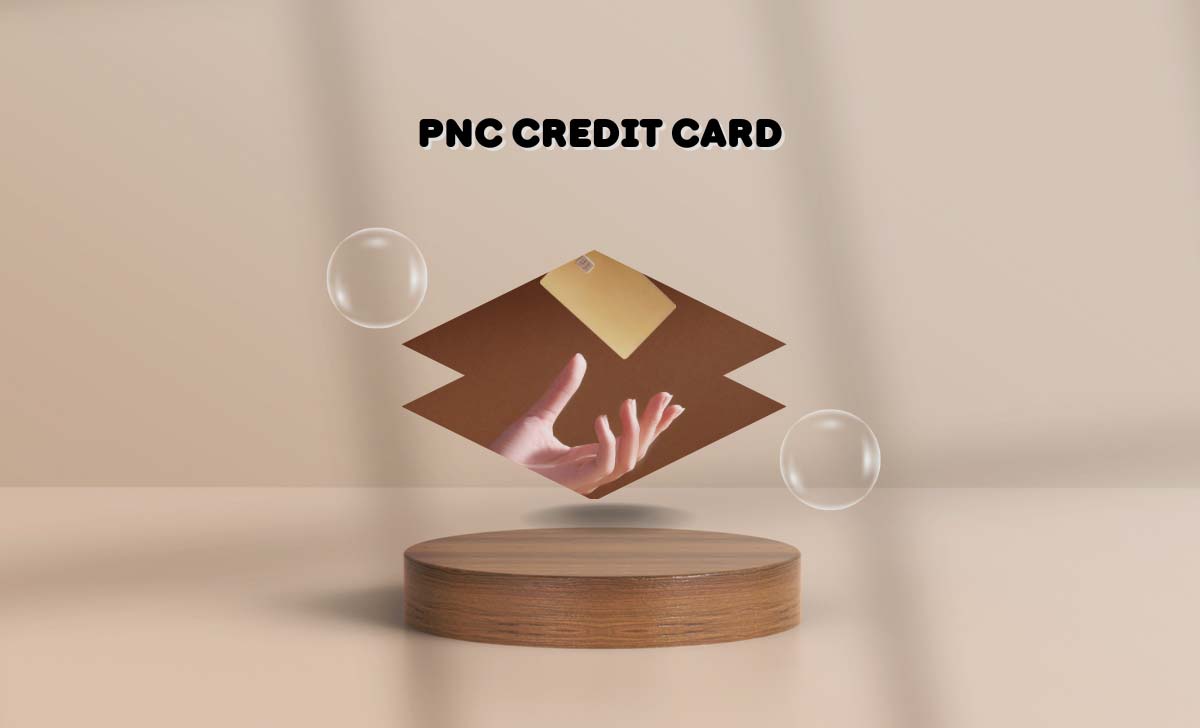 Before applying a credit card, it is highly advisable to carefully review the specific terms and conditions of any credit card offer.
PNC bank credit card offers a variety of choices outlined below for ready reference to get the unlimited benefits for user, Let's check each.
PNC Cash Rewards Visa Credit Card
This card offers cardholders cash back on purchases in certain categories, such as gas, groceries, and dining, but lower cashback rates on all other purchases.
Card Benefits:
Cashback Rewards: Get 1% cash back on all purchases and 4% cash back at fuel stations, 3% at restaurants, and 2% at grocery stores (up to $8,000 in total transactions across the three categories annually) with this card.
No Annual Fee: This card has no annual fee.
Offer for Balance Transfers: 0% APR (Annual Percentage Rate) on balance transfers for the first 12 billing cycles after account opening, if transferred within 90 days. APR varies based on creditworthiness and prime rate.
Rewards: Get cash back as a statement credit or deposit into your qualifying PNC account with $25 in your PNC Cash Rewards Account. Rewards never expire if your account is open.
PNC Core Visa Credit Card
This card is designed for individuals looking for a basic credit card without any perks or rewards. The card offers a competitive interest rate and no annual fee.
PNC Core Visa Credit Card offers a range of benefits
Lower initial APR: The card provides a lower initial APR for purchases and balance transfers, saving on interest charges.
No yearly fee: No yearly fee makes it a cost-effective choice for credit.
Benefits program: Earn points on purchases for travel, merchandise, gift cards, and more.
Terms and conditions may vary, so thoroughly review PNC Bank's details, and compare alternatives based on individual financial requirements.
PNC Points Visa Credit Card
The PNC Points Visa Credit Card enables cardholders to earn points with every purchase as part of its rewards program. It offers several benefits and features that can be advantageous to cardholders.
Here are some of the key benefits and features:
Introductory offers
0% APR on Purchases and Balance Transfers for the first 12 billing cycles and earn 50,000 bonus points with $750+ in qualifying purchases within the first 3 billing cycles.
Benefits
High Rewards for All Purchases: PNC Points Visa offers a robust rate of 4 points per dollar spent on all purchases.
PNC Banking Customer Bonuses: PNC banking customers can earn up to a 75% bonus on rewards. Qualifying PNC bank account holders earn extra points on purchases.
No Annual Fee: There is no yearly charge for this card.
No Earning Limits: Cardholders can earn points without any restrictions.
Versatile Redemption Options: Points can be redeemed for cash back, gift cards, brand-name products, Apple Store items, or travel bookings.
How can I join and accumulate PNC points?
Enrollment for points is done automatically. If your account is not enrolled, please contact the number provided on the back of your credit card.
Are there limitations when it comes to redeeming PNC points?
Yes, there are limitations on redeeming PNC points. Points expire after 48 months, and their value is lower compared to competitors.
PNC Secured Visa Credit Card
The PNC Secured Visa Credit Card is specifically designed for individuals who are looking to establish or rebuild their credit.
This card requires a security deposit, which acts as collateral for the credit limit. The security deposit ranges between $300 to $2500. The cardholder's credit limit will be equal to their security deposit.
Below are some common features associated with secured credit cards:
Security deposit: The security deposit is required to open the card and is refundable when the account is closed if there is no outstanding balance.
No annual fee: No annual fee for the Credit Card.
Enhancing your credit score: Responsible card usage and timely payments can boost your overall credit rating.
Application in person only: To obtain the PNC Secured Visa Credit Card, you must apply in person at a PNC Bank Branch.
PNC Bank Credit Card Eligibility Requirements
To be eligible for a PNC Bank credit card, individuals must meet certain requirements set by the bank.
While specific eligibility criteria may vary depending on the type of credit card and the applicant's financial profile, there are some general requirements that most applicants must fulfil. These typically include:
Individuals must be at least 18 years of age.
Evidence of sufficient income to meet the minimum monthly card payment
Social Security number (SSN).
Low debt-to-income ratio.
Favorable to outstanding credit score.
It is important to review the credit card terms and conditions carefully before applying to ensure that the applicant understands the requirements and any fees associated with the card.
Credit card eligibility can change, and the bank decides based on your application and creditworthiness. For accurate information, contact PNC Bank or visit their official website.
How to Apply for PNC Credit Card Online
Registration is necessary to access and manage your account online.
To register for PNC Credit Cards online, follow the steps provided below:
Visit the PNC Bank website at pnc.com.
Search for the Products and Services tab.
Select Credit Cards Option.
Select the credit card that aligns perfectly with your requirements.
Click on the Apply Now button.
Fill out the online application form.
Review the terms and conditions.
Click on the Submit or Apply button to submit your application.
Upon approval of your application, your credit card will be delivered to you via mail. Before use, follow the enclosed instructions to activate your card.
Please be aware that the steps and design of the PNC Bank website can differ. It is advisable to closely follow the instructions given on the website while registering, as these may vary.
PNC Credit Card login
After successful registration, you can log in to your PNC Credit Card online account. To Log In securely, follow the listed steps:
Visit the PNC Bank website at pnc.com
On the homepage, click on the Sign On button, located at the top right corner.
Enter your User ID and Password in the respective fields.
Click on the Login button to log in to your PNC credit card account.
How to Activate PNC Credit Card
When you receive your new PNC Credit Card it is time to activate it:
Open the PNC bank website in your browser at pnc.com.
On the main screen click Sign On.
Enter your Username and Password and click on Login.
Search the Credit Card Accounts section and select the card that you want to activate.
Enter any requested security information.
Follow the prompts to activate your card.
To activate your card using the PNC Mobile App, follow these steps:
Open the PNC Mobile App and log in.
Tap the Menu icon and select Cards.
Choose Activate This Card.
Tap Begin Activation.
You can also activate your card by dialling PNC Bank customer service and following the provided prompts.
PNC Credit Card Payment
Navigating the world of credit card payments is now simpler and more convenient because of PNC's efficient and accessible payment solutions.
With a focus on user-friendly interfaces and secure transactions, PNC Credit Cards Payments offer a hassle-free way to handle your financial responsibilities.
Payments made easily using various options which listed below
Online Payments: Log in to PNC online banking at pnc.com, go to the credit card section, and enter payment details.
Mobile App: Use the PNC mobile app to make payments from your smartphone. Download, log in, and choose the credit card payment option.
Auto-Pay: Set up automatic payments to deduct from your bank account monthly.
Phone Payments: Call PNC's customer service to make a payment over the phone.
In-Person Payments: Visit a PNC branch with your card and account details to make a payment at the counter.
Mail Payments: Mail a check with the provided payment slip or your PNC account number written on it.
Remember, it is important to make your payments on time to avoid late fees and negative impacts on your credit score.
PNC Credit Card Complaints
If you have any complaints or issues regarding PNC Bank credit card services, it is advisable to address your concerns promptly. Here are the steps you can follow:
Contact Customer Service: Call the PNC customer service number on your card to explain your issue.
Visit a Local Branch: If the issue persists, go to a nearby PNC Bank branch for in-person assistance.
Write a Formal Complaint: If unresolved, write a clear and detailed complaint letter to PNC Bank, outlining your concerns.
Regulatory Authorities: If still unresolved, contact regulatory bodies like the CFPB (Consumer Financial Protection Bureau) in the US for assistance.
Consider Legal Advice: For severe disputes, consult a consumer protection attorney for guidance.
What should I do if my PNC credit card is lost or stolen?
If your card lost, lock the card with PNC Easy Lock online or in the app. Report suspected unauthorized use immediately using the app, online, or at a branch.
If my PNC credit card is about to expire, what should I do?
PNC sends replacement cards two weeks before expiration. If you do not receive your new card by the expiration date, call PNC. Inactive or overdue accounts might not receive replacement cards.
How can I access my PNC credit card payment history?
You can access your PNC credit card payment history online, through the mobile app, in your monthly statements, or by contacting customer service.