Make HPSEB Bill Payment in various methods like Payment Gateway, BBPS, RTGS/NEFT process and also know How to register for HP electricty bill portal for services…
Himachal Pradesh State Electricity Board does undertake the electricity supply to the customer in the state. It is a state-owned department which is fully under control of the state electricity board and provides various services of electricity to every domestic and commercial purpose. The HPSEB has recently introduced the official portal for ease of customers which bring their services online.
The HPSEB Bill Payment, new connection and other grievances taken up through an online portal. There are various other sources, through which the payment of HPSEB electricity bill processed to ensure customers provide better opportunities. The payment gateway of electricity bills online makes it easy for consumers to ensure they don't miss the due date and timely make payment of their dues to enjoy unbreakable electricity service.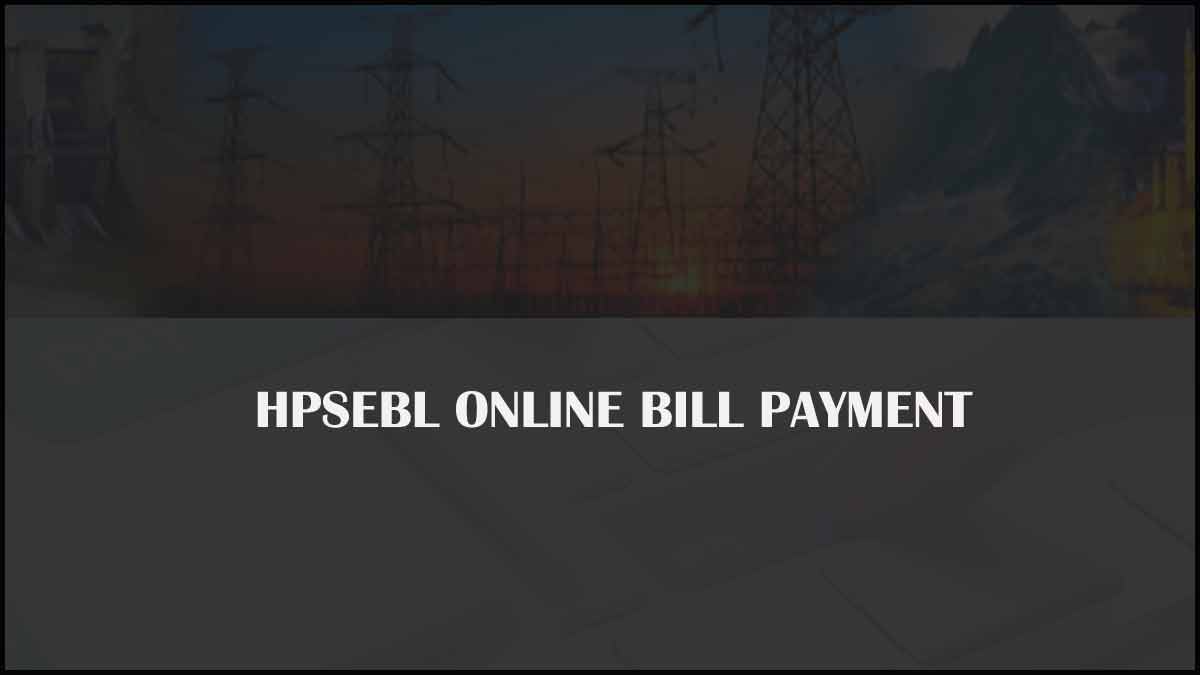 The online portal of HPSEB introduced with various options to make the payment of their bill due. Here is the detailed information to make HPSEB Bill Payment by the department provided methods.
HPSEB Bill Payment
The payment gateway is a process through which you can make HPSEB Bill Payment, where you can use any payment method online to make payment.
Visit the official website of HPSEB Bill Payment from your browser https://www.hpseb.in/irj/go/km/docs/internet/New_Website/Pages/payment.html
Now tap on payment gateway from the list of payment methods
Wait for page to load and then provide your consumer ID in column
Click on submit button to fetch the details and verify the amount
Tap on make payment and choose the payment method from list
Confirm the payment and wait for acknowledge receipt to generate
That's it, The HPSEB bill for your consumer ID successfully paid. You can get the receipt of payment for your reference which has generated.
Bharat Bill Payment (BBPS) Payment
The Bharat Bill Payment System link is directly provided in the website to clear your MSEB Bill Payment in one click.
Go to the HPSEBL portal using hpseb.in
Click on 'BBPS' payment method for the electricity bill payment
In the BBPS page, tap on menu and select the Biller form list
Select Electricity Bill and provide your consumer number
Choose the HPSEB and click on search button to fetch the details
Verify your name and due amount to ensure the details are correct
Tap on pay button and select any method to make payment
That's it, Once your payment is successful, your HP SEB bill dues cleared by giving you a receipt of payment for your future reference.
RTGS/ NEFT Payment Process
The secured payment method of RTGS and NEFT direct link is provided to pay your HPSEB Bill Payment in the quickest way. This method is a secure and easy way of bill payment.
Use hpseb.in link to visit the HPSEB official website
Click on method 3 which is RTGS/ NEFT Bill payment in sequence
Process to Bill payment without challan will shown on screen
Follow the instruction on documents to make RTGS or NEFT payment
That's it! Once you follow the documents and make the payment, the dues of your HPSEB Bill Payment will clear. This method of payment is most secured with giving you enough limitation on payment processing.
How to Register HPSEB Bill Payment
If you're a consumer of HPSEB, then it is helpful to register yourself with the online website. To get the services of the electricity department of your state at your fingertips.
Go to the HPSEB online website form link hpseb.in
Click on Consumer Registration form the link provided
Enter your consumer number and click on submit button to search
Verify your details and then proceed with providing other details
Tap on register then generated unique credentials for your login
That's it, Once your details checked, you may allow to register with HPSEB electricity bill with reference to the consumer number.
Can I pay less amount through HPSEB Bill Payment RTGS/ NEFT?
No, when using the method of RTGS or NEFT to make your HPSEB Bill Payment. it is mandatory to check your payment amount is equal or more than the due date of your bill. Also the late payment fee must included in the total amount. Else your payment will not consider as successful and the bill will still be due.
Can I make HPSEB Bill Payment through cash?
Yes, the government of Himachal Pradesh has provided enough service centres to accept the payment of the HPSEB Bill Payment. as well the electricity department office in your area will have a counter to accept the payment dues form the biller, which will be open in business hours to accept your cash payment.
How can I change my HPSEB Bill Payment amount?
The Bill amount under the HPSEB Bill Payment generated based on the units utilized by the consumer. In any way, if you consider to lower your consumption by saving electricity or by using convenient methods to ensure you don't waste electricity. These all methods will reduce your HPSEB Bill Payment amount.
What happens if I don't pay HPSEB Bill Payment?
The HPSEB Bill Payment must paid within the due date that is printed on the Bill which is generated by biller. In this view, if consumers miss the due date and late fee amount of nominal charges will applied on your total bill. This late fee added to your next month Bill.
What happens if I miss three months HPSEB Bill Payment?
In case a consumer has delayed their HPSEB Bill Payment for more than three months. The connection to that matter disconnected and will only resumed when the consumer makes the payment along with paying the late fees in one payment. Once the connection is disconnected, it will only be processed through higher officials which will respond when you clear all dues on that meter.