Government employees can get EPF Holiday Home at every corner of India. Just check the detailed addresses and contact list of EPFO Holiday Home and Guest house that located across India…
The government of India does monitor every scheme that it does rates through Employee Provident Fund Organization. Every facility provided by the EPF is different from private schemes as they are directly monitored through the Government of India. The very best option is EPF Holiday Home. It provided to the government employees who are enrolled with the organization.
Under the EPF Holiday Home every employee and officer will be provided with the best option of Holiday homes in every corner of India. They even get linked with the popular guest house in that location or any government guest house which is already available. This employee has to take an official order along with them. During their travel time to avail the free EPFO Holiday Home benefit in exactly a very new location.
EPF Holiday Home
Official letter from the All-regional provident fund commissioner has been issued. It has clearly stated about the Guest House and Holiday homes for the EPF employees. This was the 23rd meeting of the Employee Provident Fund Central Staff Welfare Committee. It was held on ground to open holiday homes. The scheme does provide access to EPF employees under which the related guest houses will be opened for eligible employees.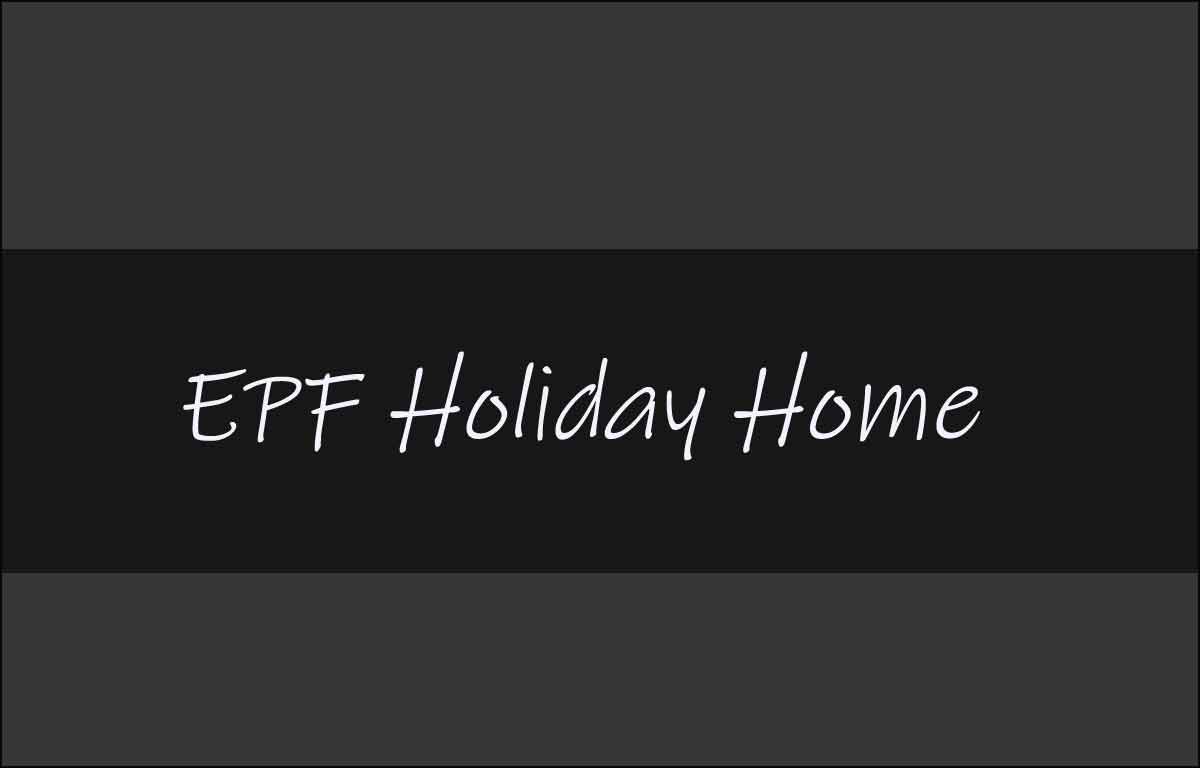 The EPF Holiday Home will be only provided to employees or officers during their time of visit. It will not be on a permanent basis. An order to every regional EPF center has been sent to get the respective lodges or guest house. To be ordered to accept the EPF employee letter during their holiday visit.
Here 25penny presents the list of places that one can use during their visit to remote areas will be already provided in the letter provided by the EPF office. Thus the employee just has to visit their holiday vacation center and get access to the lodges under the list.
EPF Holiday Home List
Bangalore
Chandigarh
Chennai
Coimbatore
Cuddapah
Goa
Fairadabad
Hyderabad
Indore
Jaipur
Madhurai
Kanyakumari
Kanpur
Kolkata
Kochi
Kozhikode
Mangalore
Nizamabad
Puri
Shimla
Thiruvananthapuram
Kolkata (West Bengal)
Contact details of Holiday Home
City
Holiday Home Address
Contact number
Puri
E.P.F Holiday Home, Hotel Samundra (P) Limited, P.N. 927, Balukhand Sea Beach, Puri, Odisha – 752202, Odisha.
06752-222705
Goa
E.P.F Holiday Home, Laxmi Niwas, Villa No. 264/108, Goan Paradise, Next to Hotel Gautam, Chogam Road, Porvorim – Goa – 403501, Goa.
9049010224
ro.goa@epfindia.gov.in
Shimla
E.P.F Holiday Home Cliff-End Estate, Rajiv & Brothers Building, (Near Marina Hotel) (Below Chief Minister's Official Residence) Shimla, (Himachal Pradesh) – 171001, Himachal Pradesh.
0177-2624732
Kanyakumari
E.P.F Holiday Home, Hotel Tamilnadu, Sea Beach, Kanyakumari, TamilNadu- 609702, Tamilnadu
Contact details of Guest House
| City | Address of EPF Guest House | Contact Number |
| --- | --- | --- |
| Cuddapah | EPF staff Quarters, P.F. Office Quarters No. 1/30, Railway Station Road, Yerra Mukkapalle, Cuddapah – 516004, Andhra Pradesh | |
| Guntur | EPF Oficers Guest House, Bhavishyanidhi Bhawan, 3rd Lane, Krishnanagar, Guntur – 522006, Andhra Pradesh. | |
| Faridabad | Q. No. 95, Type V, Bhavishya Nidhi Enclave, Sector – 29, Faridabad, Haryana. | |
| Bangalore | EPF Staff Guest House, Bhavishya Nidhi Bhavan, HMT Factory Main Road, Jalahalli, Bangalore – 560 013, Karnataka. | 080 23450177 |
| Mangalore | Bhavishyanidhi Enclave, Quarter No. 8 & 9, Block-I, Vamanjoor, Mangalore – 575028, Karnataka. | 084-2262930 |
| Thiruvananthapuram | EPF Staff Quarters, Pattom (PO), Thiruvananthapuram – 695004, Kerala. | 0471-2446286, Fax: 2441750 |
| Kochi | EPF Enclave, Salim Rajan Road, Gandhi Nagar, Kochi – 682020, Kerala | 0484-2207104 |
| Kozikode | EPF Staff Quarters, Eranhipalam P.O, Kozhikode – 673006, Kerala | |
| Indore | Nidhi Vihar, Keshar Bagh Road, Indore-452009, Madhya Pradesh | 0731-2468296 |
| Chandigarh | House No. 342, Sector 30-A, Chandigarh – 160017, Punjab. | 0172-2637302 |
| Amritsar | EPF Guest House, F-5, Bhavishyanidhi Enclave, Rattan Singh Chowk, Near Baba Jiwan Singh Gurdwara, Amritsar – 143001, Punjab. | 0183-2500335 |
| Jaipur | Qr.No.2, Nidhi Vihar Colony, Jyoti Nagar, Jaipur – 302005 | 0141-2740662 |
| Chennai | EPF Staff quarters, Dr.Th, irumurthy Nagar, Nungambakkam, Chennai – 600034, Tamilnadu. | 044-28269444 |
| Coimbatore | EPF Staff quarters, Bhavishyanidhi Nagar, Peelamedu, Coimbatore – 641004, Tamilnadu. | 422-2240045, 422-2240046 ro.coimbatore@epfindia.gov.in |
| Madurai | Bhavishyanidhi Bhavan, Lady Doak College Road, Chokkikulam, Madurai – 625002, Madurai. | 0452-2530310, 0452-2530032 |
| Nizamabad | Bhavishyanidhi Bhawan, Nyalkal Road, Nizamabad – 503001, Telangana. | 08462-245157 |
| Kanpur | Bhavishanidhi Colony Quarter No.2, Sarvodaya Nagar, Kanpur – 208005, Uttar Pradesh. | |
| Kolkata | Bhavishyanidhi Guest House, AF-Block, Sector-1, Salt Lake City, Near Vaisaphi Island, Kolkata – 700064, West Bengal. | 033-23587407 |
Are EPF Holiday Home free to acquire during visit?
The EPF Holiday Home is a free guest house or lodge section provided to the EPF officers or employees. These are provided free of cost to the employees and will only charge the basic charges apart on billing the rest rooms. EPF Holiday Home makes it easier for employers to locate their holiday destination rest rooms quickly.
Can I book two rooms under EPF Holiday Home?
The EPF Holiday Home letter which has been provided by the regional office head will only provide access to one room by default. Any excess rooms or facilities required from the EPF Holiday Home does have to be cleared at ease, such that your letter for EPF Holiday Home will have every detail of excess rooms as required.
Can I cancel my EPF Holiday Home Booking?
The booking for the EPF Holiday Home which has been made has to be cancelled one day prior to your visit, such that that particular EPF Holiday Home will be cleared from the queue and will be available for any further booking by someone else.